Trump resort will not be charged for breaching data laws
Presidential hopeful's Scottish golf course failed to register under the Data Protection Act for four years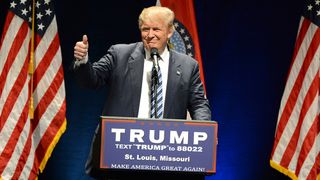 Donald Trump's Aberdeenshire golf resort will not be investigated or prosecuted, despite failing to register with the Information Commissioner's Office under the Data Protection Act.
Every company that handles personal information is required by law to register under the DPA, but Trump International Golf Links Scotland, established in 2012, failed to do so until Thursday, the ICO told IT Pro.
The hotel and golf course complex has now registered under the act, and the data privacy watchdog says that it has no intentions of prosecuting the organisation for its four-year lapse.
"Where data controllers respond to advice from the ICO that they need to notify and complete the registration process," a spokesperson said, "it generally would not be a proportionate response to then commence a prosecution.
"We treat those that we regulate in a consistent way and to pursue the golf course in these circumstances would be inconsistent to how we have dealt with others in similar circumstances."
However, an ICO spokesman pointed out to IT Pro that just because an organisation is registered under the Data Protection Act does not mean that it is automatically compliant with it. Trump's resort could still find itself in hot water if it does not take adequate steps to ensure the security of its' customers' data.
The company, which claims to have hosted tens of thousands of guests, told The Guardian that the lack of registration was a "clerical oversight".
"We take the security of our employees and guests' personal data very seriously," a statement read, "and comply with all aspects of the Data Protection Act."
A daily dose of IT news, reviews, features and insights, straight to your inbox!
Adam Shepherd has been a technology journalist since 2015, covering everything from cloud storage and security, to smartphones and servers. Over the course of his career, he's seen the spread of 5G, the growing ubiquity of wireless devices, and the start of the connected revolution. He's also been to more trade shows and technology conferences than he cares to count.
As reviews and community editor, he's responsible for leading IT Pro's wide-ranging product coverage, and is an avid follower of the latest hardware innovations. He's never happier than when tinkering with complex network configurations, or exploring a new Linux distro.
In addition to managing the IT Pro Panel and working with the community of IT leaders that make it up, he co-hosts the IT Pro Podcast, where you can hear him ranting about his love of strange gadgets, his disdain for Windows Mobile, and everything in between.
You can find Adam tweeting about enterprise technology (or more often bad jokes) @AdamShepherUK, or you can email him at adam.shepherd@futurenet.com.
A daily dose of IT news, reviews, features and insights, straight to your inbox!
Thank you for signing up to ITPro. You will receive a verification email shortly.
There was a problem. Please refresh the page and try again.