McDonald's blames anti-Trump tirade on "hacked" Twitter
Security experts warn against unsecured social media after "hacked" twitter account blasts Trump's "tiny hands"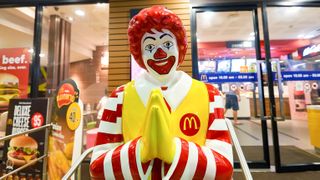 McDonald's has blamed a vehemently anti-Trump tweet on hackers, after the company's official account blasted him as "a disgusting excuse of a President".
McDonald's has publicly apologised for the tweet, stating that the account was compromised. "Based on our investigation, we have determined that our Twitter account was hacked by an external source," a statement read. "We took swift action to secure it, and we apologise this tweet was sent through our corporate McDonald's account."
Although it was swiftly deleted, Donald Trump's personal Twitter account was tagged in the offending post, which was sent out to over 150,000 followers.
The tweet also expressed a desire for the return of former president Obama, and pointed out that Trump has "tiny hands".
Unsurprisingly, many Twitter users have reacted with hilarity at a global fast food brand getting into an apparent Twitter spat with the president of the United States.
Others, however, have called it a conspiracy, claiming that the stunt was orchestrated by Obama's former press secretary and calling for a boycott of the restaurant chain.
Security experts have warned that this should be a wakeup call for companies that aren't properly securing their social media accounts.
"Companies using Twitter in recent years have gotten much better about using group management software with 2FA/MFA options," said F-Secure security advisor Sean Sullivan. "But still, there's the possibility that an employee with access can be compromised."
"McDonalds and other companies can enforce multifactor authentication to limit damage via phishing, but if an employee's device is hacked? Well, then the hacker has access to whatever is logged on at the time."
Image credit: Bigstock
A daily dose of IT news, reviews, features and insights, straight to your inbox!
Adam Shepherd has been a technology journalist since 2015, covering everything from cloud storage and security, to smartphones and servers. Over the course of his career, he's seen the spread of 5G, the growing ubiquity of wireless devices, and the start of the connected revolution. He's also been to more trade shows and technology conferences than he cares to count.
As reviews and community editor, he's responsible for leading IT Pro's wide-ranging product coverage, and is an avid follower of the latest hardware innovations. He's never happier than when tinkering with complex network configurations, or exploring a new Linux distro.
In addition to managing the IT Pro Panel and working with the community of IT leaders that make it up, he co-hosts the IT Pro Podcast, where you can hear him ranting about his love of strange gadgets, his disdain for Windows Mobile, and everything in between.
You can find Adam tweeting about enterprise technology (or more often bad jokes) @AdamShepherUK, or you can email him at adam.shepherd@futurenet.com.
A daily dose of IT news, reviews, features and insights, straight to your inbox!
Thank you for signing up to ITPro. You will receive a verification email shortly.
There was a problem. Please refresh the page and try again.