How can you protect your business from crypto-ransomware?
Here are some easy-to-apply rules to help keep your data - and your business operations - safe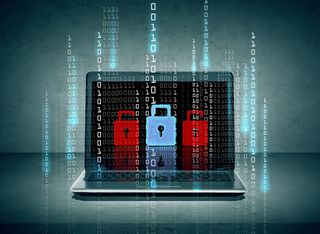 Crypto-ransomware (or cryptors) is a type of malicious software that accesses files and systems and then denies users' access to them. The malware then encrypts the files, with cyber criminals demanding payment for owners to gain access again through the release of a decryption key, hence the name ransomware.
RELATED RESOURCE
The business guide to ransomware
Everything you need to know to keep your company afloat
Average users can be expected to pay anything between £350 - £750 to have their data decrypted, but cyber criminals are well aware of how valuable data is to larger organisations, who can face demands in the hundreds of thousands of pounds. However, if a ransom isn't paid, the fee can increase to staggering amounts before the decryption key is deleted and the data is lost for good. Even when ransoms are paid, there is never a guarantee that the data is safe.
Although larger organisations are impacted, smaller businesses are the ones that make easier targets as they may not have invested in the cyber security that could protect them in the first place. In particular, small professional and financial services are considered to be most attractive to ransomware.
According to a report by Serbus, the UK was the second country in the world affected by ransomware attacks, which have increased significantly since 2019, estimated to equal a staggering financial loss of £140m globally in 2021.
"Some ransom demands have grown to the six- and seven-figure range," said Michael Tanenbaum, Head of Chubb Cyber North America. "It is critical for businesses to understand the increased sophistication of ransomware, what procedures and systems need to be in place to mitigate the risk, and what solutions they need to protect themselves should they experience an attack."
A temporary loss of data can disrupt business-critical processes and could lead to lost sales, reduced productivity and significant costs for system recovery. However, the permanent loss of data can have much more severe consequences, from damaging the company's competitive position to preventing access to intellectual property and design data.
In common with most other types of malware, there are many ways in which a cryptor can find its way onto business computers and other devices. Here are some easy-to-apply rules to help keep your data - and your business operations - safe.
Educate users:
People are often the most vulnerable element in any business. Teach employees about IT security basics, including raising awareness of phishing and spear-phishing attacks. Emphasise the security implications of opening suspicious-looking email attachments, even if it appears to be from a trusted source.
Security awareness training programmes can be a good way of ensuring employees are aware of the latest threats, and to keep security front of mind for staff.
Regularly back up data:
The best way to keep business data safe is by backing up systems regularly. With a good backup system, a ransomware attack won't have a catastrophic effect on business continuity.
Almost all businesses will already have data back up policies. However, it's also essential to back up data onto an offline backup system, rather than just copying files to another live' system on a corporate network. Establishing a backup and disconnect' policy will help keep backup files safe from cryptors.
Protect all devices and systems:
Cryptors don't just attack PCs. Business security software must also be able to protect Mac computers, virtual machines and mobile devices. It is also worth ensuring there is sufficient protection installed on the organisation's email system.
But as well as protecting devices and internal systems, it's also important to make sure that third-party applications are updated as well. Hackers can easily leverage a vulnerability in a popular application to breach your network and start infiltrating other systems.
Deploy and maintain security software:
As with all malware prevention, updating and patching early and often is a valuable policy to follow. Updating all applications and operating systems will allow the elimination of newly discovered vulnerabilities, and ensuring security applications and anti-malware databases are up-to-date will enable the business to benefit from the latest protection.
Get the ITPro. daily newsletter
Receive our latest news, industry updates, featured resources and more. Sign up today to receive our FREE report on AI cyber crime & security - newly updated for 2023.
Esther is a freelance media analyst, podcaster, and one-third of Media Voices. She has previously worked as a content marketing lead for Dennis Publishing and the Media Briefing. She writes frequently on topics such as subscriptions and tech developments for industry sites such as Digital Content Next and What's New in Publishing. She is co-founder of the Publisher Podcast Awards and Publisher Podcast Summit; the first conference and awards dedicated to celebrating and elevating publisher podcasts.