More than half of businesses saw rising fraud levels this year
Each individual identity fraud attempt could cost an organisation between £1,000 and £4,999 on average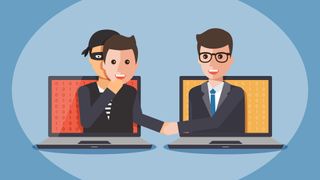 (Image credit: Shutterstock)
More than half of businesses across the UK, Germany, France, Spain, and Italy have seen a rise in fraud levels this year, according to new research commissioned by identity management provider GBG.
Some of the most frequent attacks were credit and debit card fraud (56% of respondents), followed by phishing (46%), and e-transfer fraud (37%).
However, respondents said that they are currently least prepared to defend themselves from synthetic identity fraud (26%), IP piracy (26%), and social engineering attempts (25%).
What's more, one in three consumers said they had become more worried about becoming a victim of fraud as a result of the COVID-19 pandemic. Unfortunately, their fears may be justified; according to GBG, fraud has become a prevalent issue in 2020, with one in five consumers affected by identity fraud only this year.
The rise in incidents can be attributed to the digital acceleration powered by government-imposed lockdown restrictions and social distancing. This year saw many consumers open online accounts, with the most popular being shopping (47%), social media (35%), and online banking (31%), using mobile numbers (50%), email addresses (48%), and biometric data (28%) to log in.
GM of Identity Fraud, Europe at GBG, Gus Tomlinson, said that the research "shows that not only is identity fraud already prolific, the 'trust gap' it creates poses a risk to industries which will depend on digital trust if they are to thrive in 2021 and beyond".
RELATED RESOURCE
Best practices for protecting remote work
Staying safe and secure while working from home
"For some businesses and even entire sectors, we are nearing a tipping point: get this balance wrong, and lose trust – and therefore customers – for good."
GBG also warned that each individual identity fraud attempt could cost an organisation between £1,000 and £4,999 on average.
At the height of the pandemic in April, it was reported that about £2 million was lost to coronavirus-related fraud in the UK, with the NCSC warning that "an increasing number of malicious cyber actors are exploiting the current COVID-19 pandemic for their own objectives".
"In the UK, the NCSC has detected more UK government branded scams relating to COVID-19 than any other subject," the report added.
A daily dose of IT news, reviews, features and insights, straight to your inbox!
A daily dose of IT news, reviews, features and insights, straight to your inbox!
Thank you for signing up to ITPro. You will receive a verification email shortly.
There was a problem. Please refresh the page and try again.