Hacker who ran BreachForums could face 20 years in prison
The hacker behind BreachForums is thought to have been involved in a string of cyber attacks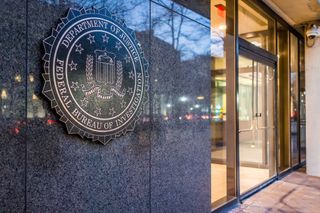 (Image credit: Shutterstock)
The alleged administrator of leading online hacking community BreachForums has been arrested following a US police operation last week.
Conor Brian Fitzpatrick, who goes by the online moniker of 'Pompompurin', was arrested and charged with conspiracy to commit access device fraud, according to court documents filed in the US.
According to court filings, the FBI agent leading the investigation, John Longmire, said that Fitzpatrick identified himself as Pompompurin and admitted to running the forum upon his arrest.
"When I arrested the defendant on 15 March 2023, he stated to me in substance and in part that: a) his name was Conor Brian Fitzpatrick; b) he used the alias 'Pompompurin', and c) he was the owner and administrator of 'BreachForums', the data breach website referenced in the Complaint," Longmire wrote.
If convicted, Fitzpatrick could face up to 20 years in prison under federal sentencing guidelines.
Penalties for access device fraud can "differ based on certain variables", including whether the individual has been previously charged in connection with similar access device crimes.
A conviction for a first-time offence can result in a fine of up to $25,000 and/or a prison term of up to ten or 15 years. However, in a case of a previous or subsequent offence, this could see the plaintiff receive a sentence of 20 years.
Fitzpatrick is thought to have been involved in a number of high-profile cyber attacks in recent years, including several against the FBI itself.
In 2021, Fitzpatrick claimed responsibility for an attack that distributed thousands of fake cyber security warnings from the FBI's official email account.
Similarly, he has been linked to the breach of the FBI's security information-sharing scheme, Infragard, and the Robinhood data breach.
Reports from Bloomberg noted that Fitzpatrick was released on $300,000 bail conditions and will appear before a Virginia court on 24 March.
What is BreachForums?
BreachForums is one of the most popular hacker communities globally, with thousands of members.
The site is a popular dumping ground for ransomware gangs leaking stolen data, with databases belonging to nearly 1,000 organisations available on the site.
Just last week, a hacker operating under the alias of 'Kernelware' leaked data stolen from Swiss cyber security firm Acronis to the forum.
RELATED RESOURCE
The essential guide to preventing ransomware attacks
Vital tips and guidelines to protect your business using ZTNA and SSE
Fitzpatrick is thought to have been a notable member on RaidForums during its heyday and launched the successor site in the wake of RaidForums' takedown by law enforcement in April last year.
RaidForums launched in 2015 and rose to prominence rapidly amid a surge in cyber criminal activity in recent years.
Portuguese national Diogo Santos Coelho, the creator of the forum, was arrested by UK law enforcement in January last year for his involvement in the illicit website.
In the wake of Fitzpatrick's arrest, BreachForums was expected to continue operating.
In posts discussing the arrest on BreachForums, a user by the name of 'Baphomet' said they planned to assume responsibility for the running of the site and sought to calm user fears of a looming takedown.
However, Baphomet issued an update to users informing them that the site would be taken down amidst suspicions that Pompompurin's account had been used to access the forum after his arrest.
"This will be my final update from Breached as I've decided to shut it down," Baphomet said. "I'm aware this news will not please anyone, but it's the only safe decision now that I've confirmed that the glowies [law enforcement] likely have access to Poms machine."
A daily dose of IT news, reviews, features and insights, straight to your inbox!
Ross Kelly is a staff writer at ITPro, ChannelPro, and CloudPro, with a keen interest in cyber security, business leadership and emerging technologies.
He graduated from Edinburgh Napier University in 2016 with a BA (Hons) in Journalism, and joined ITPro in 2022 after four years working in technology conference research.
In his spare time, Ross enjoys cycling, walking and is an avid reader of history and non-fiction.
You can contact Ross at ross.kelly@futurenet.com or on Twitter and LinkedIn.
A daily dose of IT news, reviews, features and insights, straight to your inbox!
Thank you for signing up to ITPro. You will receive a verification email shortly.
There was a problem. Please refresh the page and try again.