Flightradar24 struck by three cyber attacks in two days
The continued onslaught has knocked the flight tracker offline as its engineers work to restore services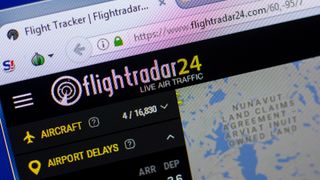 A series of cyber attacks have crippled the services of the real-time flight tracking company Flightradar24, with its engineers working to mitigate the effects of the attack and restore services to users.
The onslaught, comprising at least three attacks over the last two days, has centred on denying access to Flightradar24's services, with personal information or user data not involved, the company has confirmed. There's also no suggestion that the disruption has been caused by ransomware.
The firm revealed that it was under sustained attack on Monday evening after scores of users complained they were unable to access flight tracking services. Flightradar24, as a result, began posting a series of updates through the night as engineers worked to mitigate the effects of the security incident and restore services.
"For the third time in two days Flightradar24 is under attack," the company posted on Twitter. "Our engineers are working to mitigate the attack as quickly as possible and we hope to be back tracking flights soon. We appreciate your patience and apologise for the inconvenience."
Flightradar24 is a global flight tracking service that provides users with real-time information about thousands of aircraft in transit around the world. The firm tracks more than 180,000 flights, from more than 1,200 airlines, flying to or from 4,000 airports around the world. Users can access the service either through the website or using the company's mobile app.
The company confirmed in a series of hourly updates - following the initial revelation - that it was continuing its efforts to mitigate the attack. Its engineers were also working to bring the service back online for users.
A further update, posted on 4am on Tuesday morning suggested that the series of attacks were indeed continuing, causing "significant instability" due to their sustained nature. Flightradar24 engineers, as a result, had refocused their efforts into mitigating the attacks rather than restoring services, despite temporarily managing to bring its tracking systems back online for users.
IT Pro approached Flightradar24 for further comment around the nature of the attack.
A daily dose of IT news, reviews, features and insights, straight to your inbox!
Keumars Afifi-Sabet is the Features Editor for ITPro, CloudPro and ChannelPro. He oversees the commissioning and publication of in-depth and long-form features across all three sites, including opinion articles and case studies. He also occasionally contributes his thoughts to the IT Pro Podcast, and writes content for the Business Briefing. Keumars joined IT Pro as a staff writer in April 2018. He specialises in the public sector but writes across a breadth of core topics including cyber security and cloud computing.
A daily dose of IT news, reviews, features and insights, straight to your inbox!
Thank you for signing up to ITPro. You will receive a verification email shortly.
There was a problem. Please refresh the page and try again.