Dell launches new data centre hardware for AI and big data workloads
New servers, storage arrays and HCI appliances were announced, as well as a sneak peek at something special...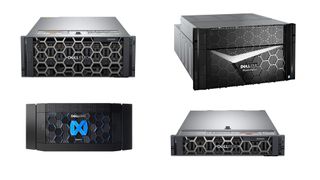 Following the massive refresh of its data centre hardware portfolio last year, Dell has launched a number of new product updates across its server, storage and hyper-converged infrastructure lines.
The announcements, made as part of the company's inaugural Dell Technologies World conference, are targeted around data-driven digital transformation projects.
Digital transformation is a big strategic focus for Dell, and a large part of what's driving the digital transformation revolution is machine learning and data analytics. In order to support these workloads, Dell has unveiled two new quad-socket PowerEdge servers, with support for up to four Xeon Scalable processors and 6TB of memory.
Built to power data analytics workloads, the new 4U PowerEdge R940xa is designed to be a performance powerhouse. It twins four Xeon Scalable processors with four Nvidia Tesla GPUs (or up to eight full-height FPGAs) and up to four direct-attached NVMe storage drives for super low latency.
"This darn thing is unbelievably fast - we just set a new record for the SAP Linux benchmark, and it beat that benchmark by over 90%," said Dell's vice president of products and operations, Jeff Clarke. "This thing is an absolute beast; a badass in the marketplace."
The PowerEdge R840 is a 2U server, which Clarke claims is three-and-a-half times faster than any other four-socket server currently in the market. It has 24 direct-attached NVMe drives for more than 150TB of total storage, as well as a fully integrated ultra-path interconnect.
Both models support FPGAs, and include Dell's outstanding OpenManage Enterprise and its latest iDRAC9 monitoring software, and will be available starting from 22 May.
Additionally, Dell has updated its hyperconverged infrastructure products, starting with VxRail. The new VxRail offerings support NVMe drives at the cache layer, dual-socket Xeon Scalable CPUs (with a maximum collective RAM allocation of 3TB per node), and Nvidia Tesla P40 GPU accelerators for better VDI performance, as well as 25GbE networking and simplified management tools.
For customers looking to deploy HCI, Dell Technologies has updated the VxRack SDDC, a turnkey system to help customers achieve the software-defined data centre. Built with the company's new VxRail hardware, the VxRack system now includes support for Vmware's new Cloud Foundation tools.
Dell is also introducing the Dell EMC PowerMax, a re-branded version of the company's VMAX storage product. The all-flash array features end-to-end NVMe storage, as well as support for NVMe-over-Fabrics and Storage Class Memory, and Dell is making bold claims about its performance. According to the company, PowerMax is the fastest array on the market, with double the speed of its nearest competition and up to 10 million IOPS.
The PowerMax also includes an integrated machine learning system, which uses predictive analytics to invisibly optimise the performance of your storage with no human input - Dell claims this is the only cost-effective way to implement SCM. Inline dedupe is also offered, and Dell claims that its compression offers a massive 5:1 ratio in data reduction.
Elsewhere, Dell's XtremIO X2 all-flash arrays have been updated to a new operating system, with the XIOS 6.1 software delivering enhanced metadata-aware replication to reduce bandwidth requirements by 75% and storage requirements at disaster recovery locations by almost 40%, by only replicating new data. For Dell's more budget-conscious customers, the XtremeIO X2 range now includes a new entry-level appliance too, which is less than half the price of the prior model.
One of the most intriguing things Dell had to show off, however, was a sneak peek at its forthcoming PowerEdge MX system - a modular server unit which is designed to allow customers to configure it to their specific needs with multiple compute units sharing certain pooled resources like cooling and power.
"What we are building - and what people want - is the capability to unlock potential energy from their resources," said Dell EMC's president and general manager of server and infrastructure systems, Ashley Gorakhpurwalla. "What they want to be able to do is to be able to utilise the resource to the max that they have built, that they have paid for and that other people consume."
"You need to be able to adapt towards power, thermal, I/O, bandwidth and protocol that doesn't even exist today."
PowerEdge MX will be formally launched in the latter half of the year, with further details to come.
A daily dose of IT news, reviews, features and insights, straight to your inbox!
Adam Shepherd has been a technology journalist since 2015, covering everything from cloud storage and security, to smartphones and servers. Over the course of his career, he's seen the spread of 5G, the growing ubiquity of wireless devices, and the start of the connected revolution. He's also been to more trade shows and technology conferences than he cares to count.
As reviews and community editor, he's responsible for leading IT Pro's wide-ranging product coverage, and is an avid follower of the latest hardware innovations. He's never happier than when tinkering with complex network configurations, or exploring a new Linux distro.
In addition to managing the IT Pro Panel and working with the community of IT leaders that make it up, he co-hosts the IT Pro Podcast, where you can hear him ranting about his love of strange gadgets, his disdain for Windows Mobile, and everything in between.
You can find Adam tweeting about enterprise technology (or more often bad jokes) @AdamShepherUK, or you can email him at adam.shepherd@futurenet.com.
A daily dose of IT news, reviews, features and insights, straight to your inbox!
Thank you for signing up to ITPro. You will receive a verification email shortly.
There was a problem. Please refresh the page and try again.