HP debuts Apollo supercomputer
HP attempts to win back the high-end market with liquid-cooled super servers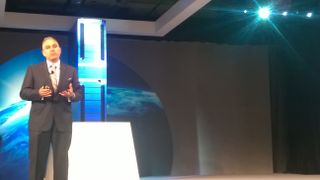 HP has announced a new supercomputer, the Apollo, in a bid to shore-up its stake in the high-end hardware market.
The firm revealed two server products featuring high-performance computing (HPC) capabilities, named the Apollo 6000 and 8000.
The Apollo 6000 features up to 160 low-end servers combined into one, HP told journalists at its Discover event in Las Vegas, and is already being tested by partner company Intel.
The Apollo 8000, which can fit in up to 144 servers per rack, has been installed at the National Renewable Energy Laboratory in the US.
The 8000 features a reworked cooling system, and will be the world's first entirely liquid-cooled supercomputer.
HP has also designed a novel way of recycling the coolant, too. Instead of pumping cold water through the servers to cool them, which would result in a bucketload of lukewarm waste, warm water is used. The resultant hot water by-product can then be siphoned off for use in the heating of the rest of the building.
"We are redefining the energy of datacentres," said Antonio Neri, senior vice president and general manager of servers and networking at HP.
The supercomputer, he added, requires 28 per cent less energy than air-cooled systems. "It is a huge opportunity for us."
HP will be aiming to take a swipe at established supercomputer giants IBM, as well as other firms in the market like Cray and Fujitsu.
Neri told IT Pro the new systems will help boost HP's sales in the enterprise sector, where it has seen a revenue decline of 2 per cent in the last quarter.
"This is the new style of compute, which will enable enterprise customers to grab hold of their futures in IT," he said.
"There will be 1 million teraflops of data demand in the future, requiring the same power as the output of the Hoover Dam. Companies need to be ready to meet that demand."
The Apollo 6000 and 8000 will be available from HP and channel partners from today.
A daily dose of IT news, reviews, features and insights, straight to your inbox!
A daily dose of IT news, reviews, features and insights, straight to your inbox!
Thank you for signing up to ITPro. You will receive a verification email shortly.
There was a problem. Please refresh the page and try again.