Internet or not, Brainshark keeps remote sales teams trained
Keep your sales team trained no matter where they travel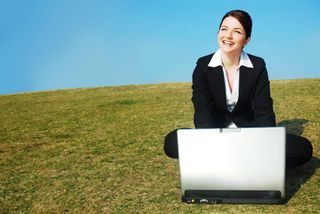 Mobile salespeople need internet connectivity, but that isn't always a possibility. Whether they are in a remote are without service, in a building with poor service or on a flight to their next meeting, this often results in inefficient downtime. Brainshark, "the industry's only data-driven sales readiness platform," looks to close this doorway to inefficiency with its new mobile offline support.
According to Greg Keshian, chief product officer at Brainshark, "With our new mobile app offline support, reps entering low- or no-connectivity areas can stay productive, use their time efficiently and effectively, and be prepared to maximize every buyer interaction."
He continued, "We are excited to more fully support an important set of mobile use cases – enabling reps to complete learning tasks, brush up on selling materials and present information from their mobile devices, without Wi-Fi or other internet connectivity. Now their productivity doesn't stop just because their internet connection did."
Some of the offline capabilities Brainshark offers include:
Downloadable courses, content and presentations
Watching presentations, viewing/completing courses, taking quizzes and assessments, etc.
Users' viewing data, course progress and quiz scores are synced automatically and reflected in their profile once they reconnect to the internet
Users can swipe and delete content when they're finished without impacting data synching
With this latest advancement, your sales team can remain on top of the latest information, whether there is an internet connection or not. Learn more about Brainshark here.
A daily dose of IT news, reviews, features and insights, straight to your inbox!
A daily dose of IT news, reviews, features and insights, straight to your inbox!
Thank you for signing up to ITPro. You will receive a verification email shortly.
There was a problem. Please refresh the page and try again.