Best mobile apps
We take a look at some of the best apps around...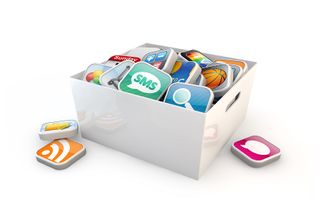 Smartphones have become an indispensable part of our day-to-day lives. Thanks to the cloud, emails, entertainment, word-processing and more can all be done straight from our mobiles, wherever we are.
But are you taking full advantage of your phone's capabilities? If your smartphone use merely extends to calls, texts and the odd game of Crossy Road, here's the best apps for making the most out of your mobile.
Opera VPN
Platform: iOS 8 and above
Size: 24MB
Price: Free
The team behind lightweight browser Opera has been busy of late. It recently launched the Opera Mini browser for Android, iOS and Windows Phone (www.opera.com/mobile), a security-conscious browser app that boasts advert-blocking and minimal data usage. Opera Mini also includes an optional VPN (virtual private network) feature that lets you hide your IP address, thereby disguising your location.
Now, Opera has souped up this VPN feature and created an iOS app that lets you mask your location when using other browsers, including Safari and Chrome, and apps such as Netflix. The biggest benefit is that sites can't "see" you as you make your merry way around the web. Opera VPN's tracker blocker is enabled by default, encrypting all your local web traffic, and blocking snoopers and hackers when you use Wi-Fi on trains, in cafes and in other public places.
IP-hiding also unlocks a whole world of content by letting you use the web and apps as if you were somewhere else
in the world. Currently, the app lets you switch to an IP address in one of five locations: the US, Canada, Germany, Singapore and the Netherlands. So you could watch US-only shows on Netflix, buy products from German Amazon and watch live streaming Canadian TV. It also means you can use sites such as Facebook in workplaces, libraries and other places where Wi-Fi has been set to block them. The VPN automatically blocks adverts in sites if you're using Safari or Chrome,
as well as in many other apps.
It took a few goes to switch our location, but it worked in the end – perhaps our home Wi-Fi was to blame. And be aware that location-switching doesn't apply to all apps (Google Maps still knew we were in London, for example). Quibbles aside, this is an excellent app – it's easy to use and provides a quick, effective way to protect your privacy and improve browsing. For a full guide, watch Opera VPN's video on YouTube.
AVG AntiVirus Free for Android
Platform: Android
Size: Varies by device
Price: Free
AVG's antivirus app targets the security needs of phone and tablet users. Malware protection is included as part of the app's toolkit. It also includes a powerful scanner that scours your installed apps for security vulnerabilities and phishing, a growing threat to Android users. It'll tell you which device settings and app permissions may be putting you at risk, and then offer advice on fixing them.
If your device is lost or stolen, AVG can help you find it but only if you've installed the app beforehand. You can wipe your lost phone or tablet and its SD card by signing into AVG on your PC; lock it; display a message; make it ring (even if it's on silent mode); and track it using Google Maps. The new version lets you manually update the app should the automatic update fail.
Talkshow
Platform: iOS 8.2 and above
Size: 25.6MB
Price: Free
To offset all our good advice about browsing anonymously (see App Of The Fortnight) and securing your device (see AVG's app below), here's the latest web fad: texting complete strangers. Talkshow describes itself as your own text-based radio show but it's more a cross between Twitter – without the pesky word-limit – and WhatsApp's group chat, except that your audience doesn't need to install the app, too. Invite friends to tune into your 'show' or post your witterings on Facebook and other sites.
ChariTable Bookings
Platform: iOS 8.1 and above
Size: 22.9MB
Price: Free
This app lets you raise money for good causes while booking a meal out. It's the restaurant that stumps up - it gives £1 to a charity of your choice, and ChariTable is the middleman. So you get a booking, the restaurant gets your custom and your chosen charity gets much-needed funds. Even taking away the charitable element, the app works well as a restaurant-booking service, with search filters including location and cuisine, and details including menus and even other users' photos of their meals.
Giphy
Platform: Android 4.0.3 and above, iOS 8 and above
Size: 7.1MB (Android), 15.4 (iOS)
Price: Free
I say "gif", you say "jif", let's call the whole thing off. These silent little looping videos are all over the internet, wordlessly expressing emotions from "argh" to "zip-a-dee-doo-dah", often using clips from classic films and TV. Use keywords to search this app's huge database of clips, then tap the buttons for easy sharing on Facebook, Twitter, email and more. New features include the option to copy a GIF to your clipboard with a long-press.
Cortex Camera
Platform: Android 5 and above, iOS 9 and above
Size: 3.7MB (Android), 1.7MB (iOS)
Price: £2.49 (Android), £2.29 (iOS)
Cortex Camera, updated for iOS and new to Android, gets around low-light, blurry or 'noisy' (speckled) images by combining dozens of individual frames to create a single high-resolution photo. You need to keep your device still for a few seconds but it means you can dispense with a tripod.
Media Extractor
Platform: Android 4 and above
Size: 2MB
Price: 60p
Extract photos, fonts and other media from PowerPoint (.pptx) and Word (.docx) documents, with this easy-to-use app that supports many file formats and doesn't compromise the quality of extracted files.
Pixel Soldiers: Gettysburg
Platform: Android 2.2 and above
Size: 14MB
Price: £1.49
This wonderful strategy game recalls the days of 8-bit graphics, with colourful blocky soldiers obeying your orders. You can choose to command either the Southern or Union armies to victory in the farmlands of 19th-century Pennsylvania. Easy to play but difficult to master, like all the most involving games.
SuperPano
Platform: Android 4.1 and above
Size: Varies by device
Price: £1.64
Combine multiple full-resolution photos into one wide-angle image, rectangular panorama or 'sphere' panorama. Either capture photos using any of your installed camera apps, or import photos from your gallery and use SuperPano to align and stitch them automatically.
Circular Logic
Platform: Android 4 and above
Size: 45MB
Price: 82p
The object of this puzzle game is simple – rotate the gears by tapping and holding, then align them before the time runs out. Once you've got the hang of it and aligned the gears, you're swept off to distant galaxies for more beautifully designed puzzle fun.
Map for Game of Thrones
Platform: Android 4.1 and above
Size: 47MB
Price: Free
This fantastic new app finally liberates Game of Thrones fans from reaching for the Pause button during those wonderful opening credits by giving Westeros the Google Maps treatment. Travel around by swiping, and zoom in and out by pinching. The map uses vector graphics for high-quality detail that matches your current zoom level, just as in Google. Visit an area to read character biographies relevant to that region, information on points of interest and read a synopsis or even full transcripts of scenes that took place there. There's also a 'Recap mode' that lets you choose an episode from a previous season and see its scenes plotted on the map.
Voisi Recorder & Transcriber
Platform: Android 4.4 and above
Size: 5.4MB
Price: Free, but with some premium features
Who can resist an app with a name that rhymes with Boycie from Only Fools and Horses? Happily, it's also rather good at its main function: recording your dictated notes in MP3 format. You can then share them by, for example, embedding them in Evernote notes and Gmail emails, or storing them in Dropbox. Alternatively, you can import recordings and then use Voisi to improve their sound quality, add text notes and insert bookmarks at key points. Sadly, the best feature – automatic transcription that turns your voice notes into written words – requires an in-app subscription of £2.39 per month or £23.99 per year.
Snapseed
Platform: Android 4.1 and higher, iOS 8 and higher
Size:46MB
Price: Free
Snapseed's powerful tools, ad-free interface and simple controls make it perfect for your mobile photo-editing needs. It couldn't be easier to use: just open a picture and tap 'Tune Image' to access settings such as brightness, contrast and saturation, or use the app's auto-enhance option. As well as tools for cropping, straightening and rotating, Snapseed offers advanced features for making precise changes to photos, and an impressive set of filters to help you achieve the perfect shot. Best of all, you can compare each edit you make with how the image looked before, so you don't accidentally overwrite the original photo.
Netflix
Platform Android (varies with device), iOS 8 and above
Size: 38.8MB
Price: App is free, but Netflix subscription required
It's easy to forget how much mobile data you're using when you're watching Netflix on your phone, which can cause you to exceed your monthly data allowance. So hats off to Netflix for updating its Android and iOS apps with a new feature that lets you control the amount of data your viewing consumes. To access this, select App Settings from the main menu then tap Mobile Data Usage. On the next screen, slide the Automatic slider to the left and choose one of the options below, including Low (which lets you watch four hours of Netflix per gigabyte of data used), High (one hour) and Off (watch over Wi-Fi only). Playback quality obviously won't be as good on lower settings.
Scarlett for Chromecast
Platform: Android 4.1 with Chromecast, Nexus Player or Android TV
Size: 6.1MB
Price: Free
Scarlett unlocks the full potential of your Chromecast by turning your TV into a personalised home screen. It streams the latest photos, videos and other content from apps including YouTube, Reddit and Twitter from your phone to your TV, so you can browse using your handset. Scarlett's 'dashboard' shows the weather forecast and time for your locations, and lets you bring up news stories by saying: "Show me news".
You can watch your YouTube playlists and set videos to play automatically, so that Scarlett essentially serves as your own TV channel. It also displays photos from 500px.com, whereas the Chromecast usually takes images from Google Photos.
Stay up to date with the latest news and analysis from the world of cloud computing with our twice-weekly newsletter
Thank you for signing up to Cloud Pro. You will receive a verification email shortly.
There was a problem. Please refresh the page and try again.