Gov seeks tech innovation to help protect against long-term economic fallout
Funding package encourages businesses to help the UK recover from any coronavirus-related downturn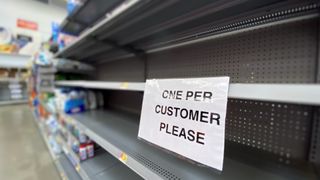 The Department for Business, Energy & Industrial Strategy has announced a £20 million funding for technology and research-focused businesses to help boost the UK's resilience to the long-term impact of coronavirus.
Businesses could receive grants of up to £50,000 to cover the development of new working strategies and help build resilience in industries heavily impacted by the pandemic, such as delivery services, food manufacturing, retail, and transport.
The innovations could include but are not limited to education tools which improve e-learning, services which keep families digitally connected, or new technology allowing retailers to respond better to sudden spikes of consumer demand.
Businesses have until 17 April to submit their proposals, which will be reviewed as part of a competition launched by Innovate UK. The chosen proposals are supposed to start development by June 2020 and are anticipated to last up to to 6 months. The new products and services are expected to become available to the public towards the end of this year.
"The COVID-19 situation is not just a health emergency, but also one that affects the economy and society," said Dr Ian Campbell, executive chair of Innovate UK. "With that in mind, Innovate UK has launched this rapid response competition today seeking smart ideas from innovators. The UK needs a great national effort and Innovate UK is helping by unleashing the power of innovation for people and businesses in need."
Science Minister Amanda Solloway applauded the response of researchers and businesses to the coronavirus outbreak so far, calling it "remarkable".
"This new investment will support the development of technologies that can help industries, communities and individuals adapt to new ways of working when situations like this, and other incidents, arise," she said.
Earlier this week, the government also announced that some of the UK's largest telecom providers, such as BT/EE, Openreach, and Virgin Media, will remove all data caps on fixed-line broadband services. The companies agreed to take additional steps to support vulnerable customers during the COVID-19 pandemic. The virus has so far infected over 33,000 people in the UK and a million globally.
A daily dose of IT news, reviews, features and insights, straight to your inbox!
A daily dose of IT news, reviews, features and insights, straight to your inbox!
Thank you for signing up to ITPro. You will receive a verification email shortly.
There was a problem. Please refresh the page and try again.