NHS 'locked in standoff' with Big Tech over coronavirus app
The government wants a centralised view of contacts but Apple and Google's API favours a decentralised model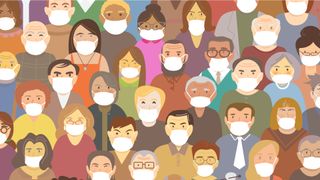 The fate of the UK government's coronavirus contact tracing app, set to be powered by Google and Apple technology, has been cast into doubt in light of a row over who can access the data.
The iOS and Android developers are working together to develop an API which healthcare organisations across the world are relying on to build their apps, including the NHS.
However, original plans set out by NHSX over such an application involved the creation of a centralised database of interactions so officials can harness a full view of the frequency of contacts, according to the Guardian.
However, it has emerged that this fundamentally differs from the nature of the API being developed by Google and Apple, which is designed to work in a decentralised manner.
Apps developed using this API will only notify individual users when they may have been in touch with a coronavirus sufferer, as opposed to feeding these data points into a centralised view.
Earlier this week it was reported the NHS was seeking to build its app using the API due to a host of features included that would be otherwise difficult to code from scratch in time for when lockdown measures are partially lifted.
The key mechanism involves using Bluetooth communications between users to determine when people interact. Amber notifications would be sent out to contacts of people who self-diagnose with coronavirus, and red alerts for positive tests.
One of the key features critical to the app's proper functionality was ensuring the app could be "always-on", and broadcast Bluetooth signals even when a user's device is asleep and the app is inactive.
The contrast between the UK government's ambitions for a centralised database, and the decentralised nature of API being developed by Google and Apple, however, has created a standoff situation.
This may force NHSX to change its approach, or follow in the steps of Singapore and go it alone by building its contact tracing app before tech giants finish developing their blueprints, according to the newspaper.
Abandoning Google and Apple's API, however, might mean compromising on functionality or UI design, which would render the app less desirable. Singapore, for example, has only registered 12% of its population to its tracing app.
This would be catastrophic for the prospects of using a contact tracing app to ease lockdown, with BBC News reporting the NHS is targeting 80% of current smartphone users in order for the app to be effective.
IT Pro approached NHSX for clarification on its plans and its position, although a spokesperson for the health service's digital arm denied suggestions of a standoff to the Guardian.
"This suggestion is completely wrong," they added. "Everyone is in agreement that user privacy is paramount, and while our app is not dependent on the changes they are making, we believe they will be helpful and complementary."
A daily dose of IT news, reviews, features and insights, straight to your inbox!
Keumars Afifi-Sabet is the Features Editor for ITPro, CloudPro and ChannelPro. He oversees the commissioning and publication of in-depth and long-form features across all three sites, including opinion articles and case studies. He also occasionally contributes his thoughts to the IT Pro Podcast, and writes content for the Business Briefing. Keumars joined IT Pro as a staff writer in April 2018. He specialises in the public sector but writes across a breadth of core topics including cyber security and cloud computing.
A daily dose of IT news, reviews, features and insights, straight to your inbox!
Thank you for signing up to ITPro. You will receive a verification email shortly.
There was a problem. Please refresh the page and try again.