Zoom reveals integration with Amazon, Facebook, Google
Users will be able to access Zoom for Home using their Amazon Echo Show, Portal from Facebook, as well as Google Nest Hub Max devices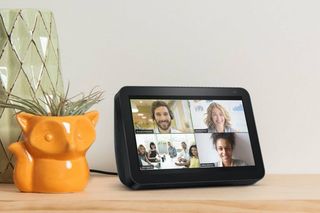 Zoom has announced that it is expanding its Zoom for Home programme by making it compatible with assistant-enabled smart displays from Amazon, Facebook, and Google.
Users will be able to access Zoom for Home using their Amazon Echo Show, Portal from Facebook, as well as Google Nest Hub Max devices.
The move comes as a recent Gartner survey found that nearly half (47%) of company leaders said they intend to allow employees to work remotely full time going forward. The extended compatibility for smart displays aims to further facilitate working from home.
The integration will enable users to join meetings with a simple voice command such as "Alexa, join my Zoom meeting" in the case of Amazon Echo Show, or "Hey Google, join my next meeting" with Nest Hub Max.
Oded Gal, chief product officer at Zoom, said that the company is "excited to bring Zoom to these popular devices".
"It's more apparent than ever that people are looking for easy-to-use displays for their video communications needs, both professionally and personally," he added.
In May, Facebook announced the launch of Workplace Rooms, which aimed to compete with Zoom in the thriving video-conferencing market. At the time, Workplace VP Julien Codorniou emphasised that the feature, also accessible through Portal, would not be prone to hijacking scenarios such as 'Zoom-bombing'.
Brian Oliver, Director of Alexa Communication, said that it's "more important than ever to offer features like these to help people stay connected with their friends, family, and co-workers," while Lilian Rincon, senior director of Product Management at Google Assistant said that the company wants "people to be able to use the video calling service of their choice to keep in touch with friends and family".
Zoom on Facebook's Portal is the only compatibility to have a set release date at the moment. It is to become widely available in September, and will be compatible with Portal Mini, Portal and Portal+, as well as Portal TV in the future.
Zoom for Amazon Echo Show and Google Nest Hub Max are to be rolled out by the end of the year.
A daily dose of IT news, reviews, features and insights, straight to your inbox!
A daily dose of IT news, reviews, features and insights, straight to your inbox!
Thank you for signing up to ITPro. You will receive a verification email shortly.
There was a problem. Please refresh the page and try again.