Amazon staff reportedly launch campaign to reverse 'shock' worldwide return to office plans
An internal petition calls for CEO Andy Jassy to roll back planned requirements for corporate staff to return on a three-day basis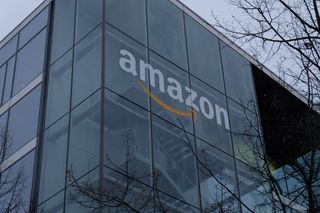 (Image credit: Shutterstock)
Amazon employees have reportedly launched an internal campaign to reverse the CEO's decision mandating a worldwide return to office push.
Corporate employees have formed a channel on the company's Slack to argue for continued remote work. In it, a petition has been shared claiming that the new office policy "runs contrary" to the company's promises.
CNBC reported that more than 14,000 had joined this channel by 21 February, a growing fraction of the roughly 300,000 global employees affected by the shift in stance on remote work.
Andy Jassy, CEO at Amazon, announced on 17 February that all Amazon corporate staff would be expected to return to the office at least three days per week effective from 1 May.
Dismayed employees have pointed to a 2021 commitment made by Jassy to continue remote working, and an acknowledgement that "no one-size-fits-all approach for how every team works best" when it comes to work patterns within the company.
Explaining the change in stance, Jassy said that leaders can more effectively teach staff when they're in the same room, and that in-person meetings are a better way for employees to become immersed in the company culture.
"It's not simple to bring many thousands of employees back to our offices around the world, so we're going to give the teams that need to do that work some time to develop a plan," Jassy wrote in a message to Amazon employees.
"We know that it won't be perfect at first, but the office experience will steadily improve over the coming months and years) as our real estate and facilities teams smooth out the wrinkles, and ultimately keep evolving how we want our offices to be set up to capture the new ways we want to work."
Reports have suggested that details on the return to office are still being finalised, including how it can apply uniformly across departments like human resources and software engineering.
Pragmatic Engineering's Gergely Orosz cited discussions with insiders who stated that employees, managers, and human resources were surprised by the announcement and questioned its absence from the firm's recent all hands meeting.
The change in remote work allowances follows Amazon's laying off of 18,000 staff, citing an uncertain economic climate and a need to preserve the long-term health of the company.
It also comes as the company approaches the first anniversary of the formation of Amazon Labour Union (ALU), the first such organised group of Amazon warehouse workers.
What's happening in big tech?
Tech workers have long been the beneficiaries of policies such as remote work, and during the pandemic companies allowed a growing number of employees to move away from the office full-time. Since then, these promises have been slowly reneged, amid wider cuts to workforce numbers and hiring goals.
RELATED RESOURCE
Employees are choosing how they work
And with the right secure digital strategy, this could be a great thing for your business: today and far into the future
Twitter, which was among the first to tell employees to work from home indefinitely, has since mandated staff return to offices and decimated their benefits, while in leaked audio obtained by ABC News, CEO Elon Musk was heard to say "if you can show up at an office and you do not show up at the office: resignation accepted. End of story".
But while big tech layoffs appear locked into most corporate strategies at the moment, wisdom on remote working has differed, and some have argued that turning back the clock on hybrid work is a mistake.
Earlier in February, GitHub announced it would go fully remote in the same breath as announcing that 10% of its workforce would be fired.
In November, LinkedIn's Global Talent Trends report noted that employers are posting fewer remote job positions, even as demand for remote jobs has increased.
A daily dose of IT news, reviews, features and insights, straight to your inbox!
Rory Bathgate is a staff writer at ITPro covering the latest news on UK networking and data protection, privacy and compliance. He can sometimes be found on the ITPro Podcast, swapping a keyboard for a microphone to discuss the latest in tech trends.
In his free time, Rory enjoys photography, video editing and graphic design alongside good science fiction. After graduating from the University of Kent with BA in English and American Literature, Rory took an MA in Eighteenth-Century Studies at King's College London. He joined ITPro in 2022 as a graduate, after four years in student journalism. You can contact Rory at rory.bathgate@futurenet.com or on LinkedIn.
A daily dose of IT news, reviews, features and insights, straight to your inbox!
Thank you for signing up to ITPro. You will receive a verification email shortly.
There was a problem. Please refresh the page and try again.