HP drives forward all-flash initiative with 25% price drop and new hardware
New 3PAR StorServ products and management systems break cover at HP Discover 2015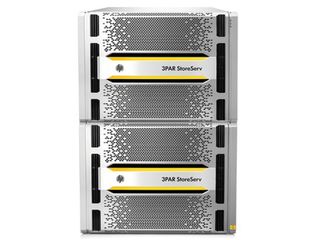 HP has introduced a swathe of new products to push forward the move to all-flash enterprise data centres, including new StorServe 2000-family arrays, as well as a significant cost reduction.
HP 3PAR StorServ 20850 and 20800 are the latest all flash and converged flash arrays respectively. The 20850 can, according to HP, is able to deliver over 75 GBps of sustained data throughput and can offer performance of over 3.2 million IOPS at sub-millisecond latency.
StorServ 20800, meanwhile, offers flash-first converged infrastructure, meaning it is fully flash when installed, but that spinning disk can be added to it, and can scale up to 15PB.
As well as new hardware, HP is trying to tempt in customers with a drop in price from $2 per gigabyte (usable) to $1.50 per gigabyte.
Vish Mulchand, director of product management at HP Storage, told IT Pro that while flash, like any technology, is becoming faster, better and cheaper as it matures and this is part of the reason for the price drop, there are two other influencers - Adaptive Sparing and data compaction technology.
With Adaptive Sparing, HP has worked with drive manufacturers to reduce the amount of memory each of them reserves for control and management of the media.
"Normally, when you buy an SSD drive of 400GB, if you count the capacity in there it is actually 512GB, but the manufacturer keeps some space reserved. When we get a 400GB drive, we also build some spare capacity in it. When we looked at this, we thought 'there is no reason why we and the drive manufacturer both have to build in spares', so we told them to take a smaller amount and we also built in a smaller amount, which means we can essentially make a 400GB drive a 480GB drive. So we give customers 20 per cent free with this technology," said Mulchand.
Data compaction technology, meanwhile, uses HP's Thin Technologies to allow customers to implement deduplication on primary storage, which Mulchand said had "previously been controversial". Due to the efficiencies introduced with this technology, customers can save up to 50 per cent on the effective cost of storage, he said.
"When you combine cheaper drives, Adaptive Sparing and deduplication, all these equate to a 73 per cent drop in prices over the past 18 months and an 8x density improvement," he said.
ServStore 20800 and ServStore 20850 will be generally available from August.
A daily dose of IT news, reviews, features and insights, straight to your inbox!
Jane McCallion is ITPro's Deputy Editor, primarily covering security, storage and networking for ITPro, CloudPro and ChannelPro.
Jane joined ITPro and CloudPro in July 2012, having previously written freelance for a number of business and finance magazines. She has also covered current affairs, including the student, public sector workers and TUC protests and strikes in central London while studying a Masters in Journalism at Goldsmiths, University of London.
Prior to becoming a journalist, Jane studied Applied Languages at the University of Portsmouth.
A daily dose of IT news, reviews, features and insights, straight to your inbox!
Thank you for signing up to ITPro. You will receive a verification email shortly.
There was a problem. Please refresh the page and try again.