The IT Press Tour: StrongBox Data Solutions, Avere Systems and E8 Storage
We meet three more companies on the second day of the press tour in California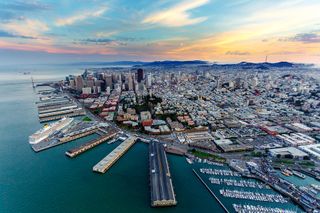 StrongBox Data, Avere Systems and E8 Storage met with the press tour on its second day.
StrongBox Data Solutions
First stop on the second day was with StrongBox Data Solutions at Fujifilm's offices in Santa Clara. Strongbox and Fujifilm has had a longstanding partnership with Fujifilm for about eight years which is why we met at their offices.
We met with David Cerf, CEO of StrongBox, who told us about his company. It was founded 15 months ago as a result of a buyout of Crossroads, has 47 employees, is completely private and has two dev sites; one in Austin and one in Beaverton.
This self-funded company has a partnership with major league baseball, has started deploying with the British Museum, while the government is another of its hundreds of customers.
StrongBox tackles storage management problems, data management and protection problems, and aims to reduce storage and operational costs. For Cerf, the big challenge in big data today is to better utilise data sets. He added that everything StrongBox delivers in the US is "through Fujifilm under the Dternity brand".
Cerf talked about the company's new product, Stronglink, which "we started shipping from the beginning of the year". It attempts to improve cost containment, reduce risk and improve productivity and agility. The product focuses on a few key elements such as making data searchable within the system and residing where it needs to be and can be accessed when it needs to be, and also uses machine learning.
"We have a machine learning technology built into this," Cerfa added, explaining how AI is combined with metadata to drive workflows and intelligent data management to reduce costs.
"Data is likely to outlive any storage solution and any storage vendor," Cerf also predicted.
Avere Systems
Next on the list was Avere Systems. CEO Ronald Bianchini said: "We're helping enterprises adopt the cloud and make it as seamless as possible." Avere aims to reinvent enterprise storage with a file system that provides scalable performance to NAS applications in the data centre, in the cloud and in the hybrid cloud deployments that use a large local SSD as a write back cache.
The company raised $14 million in its latest round of funding bringing the total funds raised to $97 million and its latest investor is Google - Avere helps its customers adopt Google Cloud. The tech giant also led the last round of funding and also named Avere as Google's cloud platform technology partner of the year in 2015, which is interesting as Avere only joined the cloud in 2014. Bianchini hinted: "You're gonna see tighter and tighter integration between us and Google." He also doesn't think he needs a series F round of funding to get to profitability: "We think series E was our last [round of funding]".
Bianchini, who was the CEO of Spinnaker Networks, added: "Basically in 2014 we came out with our cloud storage product and shortly after that we came out with our cloud compute product." He described the growth in the cloud business as "insane" compared to the growth in their data centre business and hinted that the company has a new announcement prepared for autumn. "Our growth rate is going to change dramatically in the coming quarter," he claimed.
Avere provides low latency, scalable NAS performance independent of storage repository. Bianchini said: "As long as our flash are near where your users are it no longer matters where you store the data. For us the most interesting stuff is how the customers are using it." The benefits include a highly consistent cached data in SSD and highly available low-cost object storage used for bulk data, the firm claims.
Customers include some film studios behind 12 blockbuster movies between 2013 and 2016 who use the service for special effects, four of the eight largest technology companies use it for mission critical applications, as well as the Library of Congress website for all digital media.
E8 Storage
Last on the list was E8 storage. Zivan Ori, the CEO and co-founder, moved to the Bay area last summer while other co-founder and VP of research and development, Alex Friedman, manages the business from Israel.
E8 provide the industry's first high availability shared NVMe storage appliance, or the next generation of high performance top of rack flash storage.
The company was founded in 2014 and saw its first product sale in December 2016, closing its first European sale this month in the Netherlands. It has about 45 employees, with 10 of those working in different offices in the US and 35 in Israel. E8 has raised $18 million and the last round of financing was led by Accel.
The CEO claimed: "E8 has really been designed for NVMe from day one, which gives us an edge in architecture".
Its first two deployments were in the financial sector and now it is getting into retail. The team is built up from people coming from an enterprise storage and enterprise background.
E8 claims that it is 10x-40x faster than AFAs using the same SSDs, that it's scalable to 96 connected servers, and that it's also the first product in the market using dual-port NVMe drives, built for 100GB Ethernet.
Ori added: "The time for converged Ethernet has come and E8 is one of the first products that does that."
Future plans include potentially setting up an all flash data lake by 2019.
For day three of the IT Press Tour I will be meeting Coraid, Komprise and NetApp. Make sure you check the website for regular updates or follow me on Twitter @ZachMarzouk.
A daily dose of IT news, reviews, features and insights, straight to your inbox!
Zach Marzouk is a staff writer for IT Pro, Cloud Pro, and Channel Pro where he writes news articles and in-depth feature pieces primarily focused on Asia Pacific and the US. Aside from covering topics like security, privacy, worker rights, and startups, he also contributes to the IT Pro podcast and IT Pro 20/20.
After studying an undergraduate degree in Arabic and Spanish at the University of Leeds, Zach completed a journalism internship at The Argentina Independent in Buenos Aires where he wrote about the country's history, politics, and technology.
He then joined IT Pro in 2017 where he was introduced to the world of B2B technology as a junior staff writer, before he returned to Argentina in 2018, working in communications and as a copywriter. In 2021, he made his way back to IT Pro as a staff writer during the pandemic.
Contact him at zach.marzouk@futurenet.com or find Zach's thoughts (and more) on Twitter @ZachMarzouk
A daily dose of IT news, reviews, features and insights, straight to your inbox!
Thank you for signing up to ITPro. You will receive a verification email shortly.
There was a problem. Please refresh the page and try again.