The future of mobile working
We look into our crystal ball to try and predict what the future of mobile working could look like.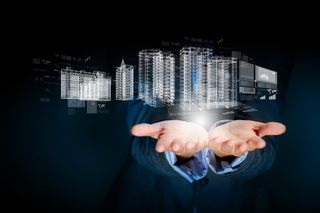 Mobile working is becoming more prevalent in the office, as tablets and smartphones allow employees to scrap their desktops and make use of hybrid tablets. In addition to saving space and giving a whole new spin on the workplace environment.
With the trend of cutting the volume of equipment and making everything mobile gaining momentum, there may be a time when office space is greatly reduced. This will slash company rental costs and give employees a more convenient working routine. It will also be a greener way of working, without the excessive and unnecessary energy use many modern offices are guilty of.
Research firm IDC has predicted that, by 2015, 1.3 billion people will be classed as mobile workers that reflects 38 per cent of the total worldwide workforce.
Good Technology polled 1,000 UK workers last year and discovered that most people work above and beyond their contracted working hours, either from home, on their commute or away from the office. The company found more than one third of people respond to emails from their bed and 38 per cent of people feel their job would be impossible without mobile email.
''There was a time when it was difficult to continue working outside of the office without carrying a laptop," says Andy Jacques, Good Technology's general manager of Europe, the Middle East and Africa (EMEA. "But with today's always-on society, people are pretty much working from the moment they wake up until the moment they fall asleep."
He adds: "While most of our customers believe their employees do work more hours as a result of this accessibility, they also appreciate and welcome the enhanced work-life balance that comes when employees have more freedom and choice as to where and when they get their work done."
In November 2012, Microsoft released a report that investigated the benefits of mobile working.
The company highlighted the fact that allowing workforces to use mobile equipment such as smartphones, tablets or laptops means "less of a need for costly, energy-using and space-consuming desktop PCs."
It also said companies exploring mobile working enable employees to "spend less time in the office during the day, safe in the knowledge that emails can be answered or calls made from home later that evening or on the weekend. Files and shared documents are readily accessible in the cloud, allowing employees to work collaboratively even when they are based in different locations."
"Providing [employees] have a web-enabled device, sufficient connectivity and battery life, there are few opportunities for 'dead time' in the working day," Microsoft's research concluded.
Rob Bamforth, principle analyst at Quocirca, thinks more tablets and smartphones and fewer desktops and desks will bring some interesting opportunities, challenges and benefits.
"Fewer desks could mean an entire reshaping of the office interior with lounge areas where teams can sit around and collaborate (sort of bring your own coffee shop) atmosphere," he says.
This will make working environments more sociable and therefore boost morale, according to Bamforth.
"Fewer keyboards means less typing, fewer long, wordy documents, more punchy social type communications and more imagery. Infographics are already popular and a more open-style environment will increase as creation tools for the average user become more widespread."
A daily dose of IT news, reviews, features and insights, straight to your inbox!
A daily dose of IT news, reviews, features and insights, straight to your inbox!
Thank you for signing up to ITPro. You will receive a verification email shortly.
There was a problem. Please refresh the page and try again.