Online porn, iPhone 6 and Microsoft: IT Pro's web comments round-up
In the first of a new series, IT Pro takes a look at the stories our readers have been talking about over the past seven days.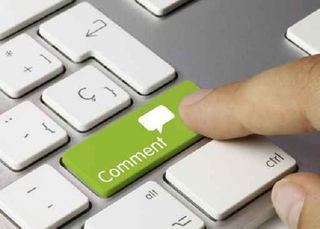 We've all got opinions, and the IT Pro community certainly isn't shy about sharing them. From ranting about the proposed internet porn filters and the botched Outlook.com switchover, to educating fellow readers with quotes from Roman Emperors, there's never a dull moment.
Below we take a look at some of the news stories and features that have got readers riled this week.
Web porn wig out
The most talked about story of the week was undoubtedly David Cameron's plans to introduce default porn filters to UK homes, as part of a Government-led online pornography clampdown.
The filters will be automatically switched on to prevent users from accessing adult content online, unless they contact their ISP to opt-out of the scheme.
The initiative has been universally panned by IT Pro's readers, with some claiming the plans could pave the way for widespread censorship of the UK's web space.
"This is pure censorship, the kind of thing that we associate with China," wailed Jimbo.
While, Mobasa69 said there are already plenty of online systems in place to trap those with a penchant for the worst the internet has to offer.
"This policy put forward by Cameron isn't about porn control, it's about total control over the internet, so his elite masters can control the alternative media sites that show them up for what they truly are," they added.
Others said the proposals highlight a lack of understanding within Government of how the internet works, with several readers pointing out that a lot of the material it is trying to curtail access to is rarely shared on the open web.
"Are David Cameron, and his Porn-Tsar Claire 'Mary Whitehouse' Perry, completely out of touch with reality and how technology works," asked IT Pro fan UK Taxpayer.
The same commentator also questioned Apple's (rumoured) decision to launch a new budget version of the iPhone, when the aged iPhone 3GS would fit the bill quite nicely, thank you.
"The iPhone 3GS still suffices as a perfectly satisfactory cheap iPhone," they pointed out.
"Unfortunately, due to IOS 7 and a lack of support for this device, it is now approaching obsolescence."
Microsoft movers and shakers
IT Pro tech editor Khidr Suleman wrote a thought provoking column this week on what has undoubtedly been a turbulent month for software giant Microsoft.
In it he questioned whether the firm's CEO Steve Ballmer has what it takes to help the firm negotiate its way through the post-PC era.
The article was so thought provoking, in fact, it prompted one learned reader (GrahamMills) to start quoting the Roman Emperor Marcus Aurelius, while discussing Microsoft's recent senior management shuffle.
"We trained very hard, but it seemed that every time we were beginning to form into teams we would be reorganised. I was to learn in this life that we tend to meet any situation by reorganisng," he wrote.
"And a wonderful method it can be for creating the illusion of progress while producing confusion, inefficiency, and demoralisation." Deep.
Outlook outrage
Aside from that, the site was deluged with another wave of comments from former Microsoft Hotmail users, many of whom still seem to be struggling with the new-look Outlook.com service.
This time users have flagged issues when trying to print emails, as well as myriad of other account access problems, with several readers complaining about being unable to read old emails.
"I have lost two accounts...All my emails lost and they are important. Is there any reprieve so we can get the email address [re]stored from the 'closed' account? It is disgusting [and I]think I may leave Outlook, and Hotmail," fumed Whoppet.
"F*****g Microsoft. Because of their security obsession I can't access my email account. Idiots !!! I'm leaving f*****g Hotmail," added Lukamo, whose rant tested the very limits of the IT Pro swear filter.
BlackBerry tablet talk
BlackBerry chief Thorsten Hein's recent prediction that the tablet form factor will be obsolete in five year's time continues to perplex the IT Pro universe, with one reader pondering exactly what the smartphone maker's CEO expects to replace it?
"The evidence suggests the mass migration away from laptops by many (especially the casual consumer) to tablets coupled with intuitive easy to use OS and a huge software base," said Privet Romashski.
"If tablets are to be replaced one has to ask, with what?" Well, what indeed!
A daily dose of IT news, reviews, features and insights, straight to your inbox!
Caroline Donnelly is the news and analysis editor of IT Pro and its sister site Cloud Pro, and covers general news, as well as the storage, security, public sector, cloud and Microsoft beats. Caroline has been a member of the IT Pro/Cloud Pro team since March 2012, and has previously worked as a reporter at several B2B publications, including UK channel magazine CRN, and as features writer for local weekly newspaper, The Slough and Windsor Observer. She studied Medical Biochemistry at the University of Leicester and completed a Postgraduate Diploma in Magazine Journalism at PMA Training in 2006.
A daily dose of IT news, reviews, features and insights, straight to your inbox!
Thank you for signing up to ITPro. You will receive a verification email shortly.
There was a problem. Please refresh the page and try again.