London Technology Week: Events highlight cloud, youth employment and more
London Technology Week sees discussion of the cloud, attracting young people to IT and more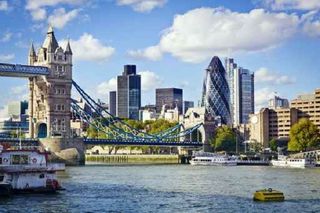 London Technology Week is taking place this week across in the capital. With over 200 events planned between 16 and 20 June expected to be attended by more than 30,000 entrepreneurs, investors and business leaders. The week will feature exhibitions, conferences, lectures, workshops and more.
Mayor of London Boris Johnson said: "London's first ever Technology Week will showcase London's role as the digital capital of Europe, with a range of innovative businesses now calling the city their home, attracting both significant investment and some of the best and brightest talent on the planet."
The events cover a range of subjects related to the technology sector, including Will Artificial Intelligence Put My Job at Risk' on 18 June, a series of conferences, exhibitions and networking events focusing on the Internet of Things from 17-19 June at the Grange Tower Bridge and the Cloud World Forum & Big Data World Congress exhibition on 17 and 18 June at Olympia London.
Gordon Innes, CEO of London & Partners, official promoters for London Technology Week, said: "This is just another milestone for London's tech business sector and cements London's status as a global hub for the tech industry. Our capital continues to play home to some of the most inspiring businesses and the best talent in the world.
"Like London Fashion Week is for the Fashion Industry, we hope this brand new event will be a global magnet for the world's tech sector."
The capital has been urged to support and nurture growth in the digital technology sector over the next decade, with it predicted to grow by 5.1 per cent a year, generating 46,000 new jobs by 2024, Reuters reports ahead of London Technology Week.
The city already employs more people in the tech sector than either New York City or San Francisco's Silicon Valley, it is claimed.
Ronan Dunne, CEO of O2, said: "It's crucial we use this inaugural celebration of London as a technology capital to attract more young people to the world of tech. With the digital economy now vital to the UK's long-term success, offering opportunities to those who have digital skills in abundance is of paramount importance.
"If the UK is to plug its growing digital sales gap, more businesses must play their part and this week is a great time to start."
Over the course of the next few days we will be bringing you all of the news from London Technology Week, so check for regular updates over the page.
Current page: London Technology Week: Events highlight cloud, youth employment and more
Next Page
A daily dose of IT news, reviews, features and insights, straight to your inbox!
Caroline has been writing about technology for more than a decade, switching between consumer smart home news and reviews and in-depth B2B industry coverage. In addition to her work for IT Pro and Cloud Pro, she has contributed to a number of titles including Expert Reviews, TechRadar, The Week and many more. She is currently the smart home editor across Future Publishing's homes titles.
You can get in touch with Caroline via email at caroline.preece@futurenet.com.
A daily dose of IT news, reviews, features and insights, straight to your inbox!
Thank you for signing up to ITPro. You will receive a verification email shortly.
There was a problem. Please refresh the page and try again.