Amazon delivery drones to be banned by US authorities
Amazon's fleet of delivery drones could be grounded if the FAA gets its way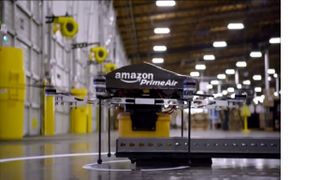 Amazon's futuristic drone delivery project could be stopped in its tracks by the US Federal Aviation Administration (FAA).
FAA documents call the delivery of packages to people for a fee a non-hobby or recreational usage of drones, qualifying it as a commercial purpose. Using the drones for commercial purposes, it argues, should be illegal due to modern regulations on unmanned aircraft.
An earlier FAA request to ban drone activity was shut down by a US judge, who claimed that the group did not have the authority to prohibit commercial usage of hobbyist equipment.
Amazon is more than likely aware of the restrictions placed on its delivery drone service, whether before or during operation.
Offering packaging and delivery for free would not allow the retail giant to get around the legislation either: the document stipulates that free shipping constitutes a business purpose too.
The commercial usage of drones is a legal grey area. In the UK, as in the US, regulations state that the operator of a drone or unmanned air vehicle (UAV) must keep visual contact with the craft at all times.
Innovations in first-person video recording and transmission on UAVs, however, has meant that pilots can now maintain contact with the drone while not having it within physical sight.
The Civil Aviation Authority (CAA), the UK's governing body on UAV regulation, specifies that any drone under 20 kilograms and equipped with video recording equipment or cameras (as would be needed for long-distance flight) must not pass within 150 metres of a congested area.
Cities, towns and villages are effectively a no-fly zone for UAVs under current EU and US law. This means that although there may not be a sizable fleet of Amazon delivery drones for a number of years, there will be a sizable amount of paperwork to get through.
Amazon has said that putting the tech into use will take time as it waits for rules and regulations to catch up to the technology.
Helen McKenzie, UAV project lead and pilot at Remote Aerial Surveys, disagrees: "At present it is not necessarily a case of regulation catching up to technology, but the reverse," she told IT Pro.
"The main technological issue is that very few UAVs are capable of carrying articles which weigh a significant amount for a long enough period of time.
"Unless there is considerable change in the regulations currently governing UAVs and an advance in technology enabling longer flight times and heavier lift capabilities, the use of UAVs for deliveries is likely to remain a gimmick for the foreseeable future," she added.
A daily dose of IT news, reviews, features and insights, straight to your inbox!
A daily dose of IT news, reviews, features and insights, straight to your inbox!
Thank you for signing up to ITPro. You will receive a verification email shortly.
There was a problem. Please refresh the page and try again.