Intel unveils UK Internet of Things Ignition Lab
Chipmaker wants to help customers test and bring their IoT products to market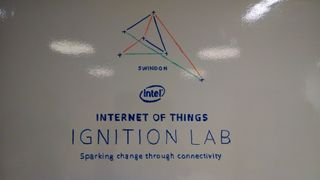 Intel has opened an Internet of Things (IoT) lab in the UK, as the chipmaker looks to encourage the development of IoT projects to make cities smarter.
The Swindon-based Ignition Lab is focused on making smarter buildings and solving problems in the retail and transport sectors. Intel customers can book out the lab and work together with engineers to plan, build and test concepts.
The aim of the Ignition Lab is not only to help businesses make products to improve their operating efficiency but also to solve challenges which will be created by the growth in population from 7 billion to approximately 10 billion by 2050.
"All of the growth on the globe over the next 30 years is going to feed into cities. London's adding 2,000 people a week at the moment. By the end of 2030, London will have added the size of Birmingham into its population. Think about the challenges to infrastructure, energy, water, education and entertainment," said Rod O'Shea, Intel EMEA marketing director for IoT.
Intel believes it has an advantage when it comes to deploying IoT systems by providing everything from gateways through to the backend systems. The firm's intelligent gateways are able to aggregate data from sensors and crunch important data locally, instead of sending everything to the cloud to be processed.
Real-world use cases
Monitoring Carbon dioxide
Intel demonstrated how its API Management Platform can be used collect data and monetise it. In theory a local council could use sensors paired with an Intel gateway to monitor carbon dioxide levels in a town or city. This data can then be synced in real-time to vary the rate of a congestion charge in an urban area.
So if carbon dioxide levels are high during a particular part of the day, the cost of congestion charge could be set at 10. Whereas when the level of CO2 is at its lowest, parking may be free.
Taking this a step further, the data could be pushed out to citizens so they can decide whether they want to drive in. The council could also sell information to bus companies and they can use it to attract business by encouraging people to use public transport during periods when CO2 levels are high.
There are numerous other use cases, according to Scott Ware, technical engineer at Intel.
"Imagine a row of street lights with sensors and a gateway at the end of each street. You can seen exactly when a bulb blows and a text could be sent to an engineer pinpointing the exact location they need to go to," he told IT Pro.
"At the moment a member of the public would have to ring up and when the goes out to fix the light engineer, he'll have to manually look for the light."
Smart Buildings
A simple thing such as a people counter in an office building can help businesses save energy as they can monitor footfall and control lighting, heating and air conditioning in real-time.
More complex use cases include the ability to monitor smartly-managed server rooms to make them as intelligent and efficient as possible.
Healthcare
One of the more interesting deployments of IoT will be in the healthcare market - especially with the aging UK population.
A system called Mimo Care can be used to monitor elderly people who may be living at home on their own. This is done by putting a gateway in the house, plugging it into the broadband connection and syncing up wireless movement, light and temperature sensors.
Gerry Hodgson, CEO of analytics firm Cascade 3D, told IT Pro how he uses the technology to monitor his parents.
"We can see whether or not the fridge has been opened, and whether my dad has moved through the house. If he doesn't go into the hallway by 8:30am, I get a text message to let me know," he explained.
Other use cases include putting sensors on medicine cabinets and eventually integrating them onto the lids of prescription bottles, so doctors and family members can see whether or not a patient has taken their pill at an allocated time.
The system could also be deployed in care homes to help monitor Alzheimer's patients.
A daily dose of IT news, reviews, features and insights, straight to your inbox!
Khidr Suleman is the Technical Editor at IT Pro, a role he has fulfilled since March 2012. He is responsible for the reviews section on the site - so get in touch if you have a product you think might be of interest to the business world. He also covers the hardware and operating systems beats. Prior to joining IT Pro, Khidr worked as a reporter at Incisive Media. He studied law at the University of Reading and completed a Postgraduate Diploma in Magazine Journalism and Online Writing at PMA Training.
A daily dose of IT news, reviews, features and insights, straight to your inbox!
Thank you for signing up to ITPro. You will receive a verification email shortly.
There was a problem. Please refresh the page and try again.