Why Uber will win the taxi wars
European legislators are no match for the march of progress, claims French Digital Champion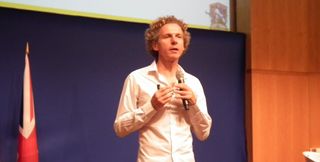 The war between Uber and taxi drivers across Europe may be ongoing, but the outcome is a fait accompli, according to France's digital champion, Gilles Babinet.
Babinet, himself a serial entrepreneur, told delegates at the Hack4Europe conference in Paris: "Think about this: an average taxi is in commercial usage 45 per cent of its time, which means that 55 per cent is just waiting for a client."
"Do you know how much is the ratio of usage for an Uber car? It's 85 per cent and just because of this they are going to win. Whatever we do, whatever the regulations we try to put in place, just because it is hugely efficient. It cannot be beaten by any type of regulation," he said.
Uber is currently mired in controversy in France, with the company's two top executives having been arrested and charged with misleading commercial practices, complicity in the illegal operation of taxis, and illegal handling of data on Monday this week. 202 Uber drivers were fined the following day, with 79 cases still pending.
Amid the furore, Uber France has temporarily suspended UberPOP - the service at the centre of the dispute between the company and the country, which connects users with drivers who charge for rides but are unlicensed and untrained - in order to protect drivers and their vehicles from alleged attacks by taxi drivers.
Nevertheless, Uber was well represented at the event, which was the culmination of a Europe-wide hackathon to build new apps in the categories of Smart Cities, E-commerce, Mobility, Social Positive (having a benefit for society at its heart as well as commerce), Internet of Things, and Energy.
The Mobility award was sponsored by Uber and the winning app built on the company's API. Thibauld Simphal, MD of Uber in France and one of those charged on Monday, was also a panellist at the event speaking on the topic of "How to create European GAFAs" alongside representatives of ride-sharing app Blablacar, Alcatel OneTouch, and Iris Capital Management.
A daily dose of IT news, reviews, features and insights, straight to your inbox!
Jane McCallion is ITPro's Deputy Editor, primarily covering security, storage and networking for ITPro, CloudPro and ChannelPro.
Jane joined ITPro and CloudPro in July 2012, having previously written freelance for a number of business and finance magazines. She has also covered current affairs, including the student, public sector workers and TUC protests and strikes in central London while studying a Masters in Journalism at Goldsmiths, University of London.
Prior to becoming a journalist, Jane studied Applied Languages at the University of Portsmouth.
A daily dose of IT news, reviews, features and insights, straight to your inbox!
Thank you for signing up to ITPro. You will receive a verification email shortly.
There was a problem. Please refresh the page and try again.