One of Google's self-driving cars crashed into a bus and is at least partly to blame
The accident report has just been made public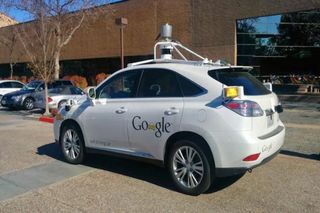 One of Google's self-driving cars just crashed into a public bus on a busy city street.
The vehicle was in autonomous mode when the collision happened in Mountain View, California.
The accident came about on 14 February, with the details noted in a report filed by Google to the state's department of motor vehicles.
According to the accident report made public on Monday 29 February, one of Google's Lexus SUVs changed lanes and put itself into the path of a munipipal vehicle. It moved to make a right turn, but stopped when it deteced a grouo of sand bags placed around a drain. When it veered out to pass them, things went bad.
Here's a notable extract of what Google announced:
It's not exactly a major crash, however. Google's self-driving car was travelling at a mere 3mph, while the bus was going 15mph. Nobody was injured.
However, the fact that the vehicle struck another has rung alarm bells. Autonomous cars is a huge topic of discussion - many believe it to be the future and tests are being conducted across the world. But, naturally, there are concerns.
As Google admits: 'In this case, we clearly bear some responsibility, because if our car hadn't moved there wouldn't have been a collision.'
Google had previously admitted that its car 'could' have been at least partly responsible for the collision. Apparently the car's test driver, who must take control when needed, according to state law, thought the bus would move to evade the coming together.
This now appears to be the first time one of the company's self-driving cars will have had an accident. But there are still questions to be answered and finer details will no doubt be sought. If these cars are on the road as planned by 2020, these issues will have to be ironed out.
Google has been testing its Lexus motors, kitted out with cameras and sensors, for some time now. There have been other incidents, but none where Google has been determined as soley responsible.
This article originally appeared on sister site Alphr.
A daily dose of IT news, reviews, features and insights, straight to your inbox!
A daily dose of IT news, reviews, features and insights, straight to your inbox!
Thank you for signing up to ITPro. You will receive a verification email shortly.
There was a problem. Please refresh the page and try again.