Google's latest robot climbs stairs and carries heavy weights
Alphabet-owned Schaft shows off Japanese robot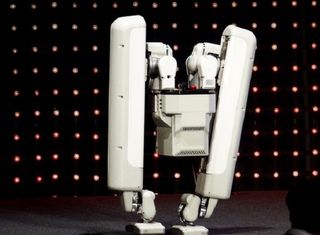 A walking bipedal robot that can climb stairs, lift heavy weight and tackle uneven terrain has been unveiled by Google's parent company, Alphabet.
The as-yet-named robot from Japan can also carry up to 60kg of weight and looks very different to robots made by Boston Dynamics, Google's under-threat robotics division.
It was made by Japanese company Schaft, which is owned by Alphabet. The company is a spin-off out of the University of Tokyo's JSK Robotics Laboratory. Its technology has been kept under wraps since Google bought the firm back in 2013, and forms part of Alphabet's experimental technology lab, X.
The purpose of the robot, according to its makers, is to assist humans and carry heavy weights across difficult terrain using its two legs.
Rather than mimic human walking, the robot has rigid legs that slide up and down, enabling it to lift things without bending. Joints at the top and ankles at the bottom provide stability, while motors and the battery are suspended between the legs to give the robot a low centre of gravity. It would be made as a low-power, low-cost machine, its makers said.
The robot was demonstrated at the New Economic Summit in Tokyo. In a video, the robot was put through its paces and had to overcome a number of obstacles in its path. It was shown standing on a moving pipe and also walking on shingle.
A spokesman from Alphabet's X told Spectrum IEEE: "[The presentation] wasn't a product announcement or indication of a specific product roadmap. The team was simply delighted to have a chance to show their latest progress."
The demo comes as Alphabet reviews all its companies to see which ones will generate revenue. So far, fellow robotics company Boston Dynamics has been put up for sale, despite the technology strides it too has been making with walking robots.
Image credit: Tim Hornyak
A daily dose of IT news, reviews, features and insights, straight to your inbox!
Rene Millman is a freelance writer and broadcaster who covers cybersecurity, AI, IoT, and the cloud. He also works as a contributing analyst at GigaOm and has previously worked as an analyst for Gartner covering the infrastructure market. He has made numerous television appearances to give his views and expertise on technology trends and companies that affect and shape our lives. You can follow Rene Millman on Twitter.
A daily dose of IT news, reviews, features and insights, straight to your inbox!
Thank you for signing up to ITPro. You will receive a verification email shortly.
There was a problem. Please refresh the page and try again.