International Girls in ICT Day: Interest in entrepreneurship almost equal, but we need to do more
Girls' interest in tech still disappointing, with parents and schools urged to do more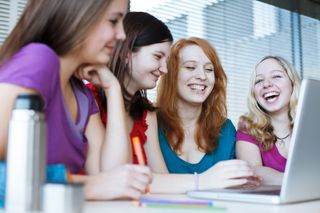 Almost a quarter of girls between 11-18-years-old want to work in digital technology as a computer game developer (12.3 per cent) or entrepreneur (11.5 per cent), according to new research from Nominet.
Both career paths were featured in the top five choices for dream careers by girls surveyed for the DREAM:IT study, falling below fashion designer, graphic designer and teacher. These figures were still dwarfed by those for boys, however, with computer game developer (36.5 per cent), app developer (17.2 per cent) and website developer (15.1 per cent) sitting in the top three positions and entrepreneur (13.4 per cent) in position five.
Russell Haworth, CEO of Nominet, said: "I'm greatly encouraged that young people see the advantage of working in this rewarding and innovative industry and understand that studying ICT is key to securing their dream job. However, we're putting the future of our digital economy at risk if we recruit from only half of the talent pool and fail to encourage more girls into IT.
"It appears that sustained collaboration between schools and the IT industry is what's required to ignite girls' interest and to develop their skills. The BBC micro:bit is one initiative that could certainly help kick-start a change in their perceptions of IT."
A recent study by Fortune revealed that young women still believe that IT roles are boring (41 per cent), too technical (35 per cent), too hard (28 per cent) and male-dominated (16 per cent). For 17-18-year-olds, of the 63 per cent interested in the tech industry, twice as many boys (43 per cent) than girls (25 per cent) stated they would be interested in an IT role.
Despite comparatively low figures for girls wishing to enter the IT industry, a career as an entrepreneur appeals almost equally to girls and boys. Last month, it was revealed that the majority (60 per cent) of entrepreneurs in the UK between the ages of 18-24 are female, beating the global average.
It is thought that a lack of self-belief and encouragement steers young girls away from careers in STEM fields at an early age, with the gender gap growing as students grow older. For example, last year it was revealed that A-level participants for STEM subjects have become more gender-balanced, but a divide remains in the workforce.
"Young women are strongly influenced by their school years, what they learn and the role models they look up to," said Vicki Shotbolt, CEO of Parent Zone. "These influences can clearly make a difference to the choices they make later in life, so it's paramount we do all we can now to ensure the success of our future IT workforce.
"It's easy for parents to slip into the trap of being negative about technology, but it's important they try to see it through their children's eyes and remember that technology is likely to feature in their careers when they leave school. These are lots of resources available to parents when it comes to cultivating their children's interests in IT, so they should know that help is available if they need it."
A daily dose of IT news, reviews, features and insights, straight to your inbox!
Caroline has been writing about technology for more than a decade, switching between consumer smart home news and reviews and in-depth B2B industry coverage. In addition to her work for IT Pro and Cloud Pro, she has contributed to a number of titles including Expert Reviews, TechRadar, The Week and many more. She is currently the smart home editor across Future Publishing's homes titles.
You can get in touch with Caroline via email at caroline.preece@futurenet.com.
A daily dose of IT news, reviews, features and insights, straight to your inbox!
Thank you for signing up to ITPro. You will receive a verification email shortly.
There was a problem. Please refresh the page and try again.