Topshop teams with L Marks to drive forward fashion tech
The high street retailer is looking for early stage start-ups with innovative idea in wearable technology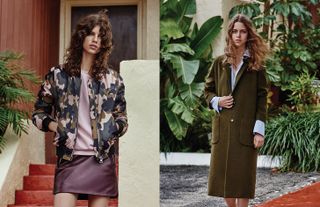 Topshop has teamed with early-stage investment company L Marks to launch a start-up programme for wearable technology, aiming to find and develop the best prototypes to bring technology into the fashion world.
The programme, Top Pitch, is looking for pre-retail start-ups to enter an intensive boot camp split into four one-week sessions. During this time, Topshop will give participants access to keynote presentations, talks and guidance from a group of expert mentors. Start-ups will also get desk-place at the Top Pitch hub in Central London.
Start-ups either at concept stage or prototype-ready are welcome to apply, and workshops held through the process will cover subjects such as business growth and hardware development. At the end of the process, ideas will be presented to Sir Philip Green, owner of Arcadia Group, Topshop's parent company.
The official website reads: "Wearable tech has been on the brink of commercial success for the past few years, but products have yet to be picked up by the high street. Top Pitch challenges wearable tech entrepreneurs to present a product that is stylish, functional and in-demand with the Topshop customer, at a price that's accessible."
While funding for the start-ups is not provided through Top Pitch, there will be opportunity to explore further investment, and equity is not taken from teams.
Rachel Arthur, founder of Fashion and Mash, Maddy Evans, fashion director at Topshop, and Bethany Koby, designer, CEO and co-founder of Technology Will Save Us will all serve as mentors.
Sheena Sauvaire, global marketing and communications director at Topshop, said: "The merge of style and function has yet to have been seen in a true consumer-ready sense and our aim is to discover new-to-market, highly desirable product at accessible prices for our fashion-savvy customer."
Last year Geoff McGrath, MD of McLaren Applied Technologies, said that healthcare and the fashion industry would be key areas for the evolution of wearable technology, stating they could be the ones to "crack the code" to making wearables commercially appealing.
In December, Telefonica unveiled a smart dress that could analyse a wearer's emotions and measure their surroundings, feeding information back to the wearer. The invention won the Telefonica R&D and the LABoral Centre for Art and Industrial Creation's Next Things 2015.
"Top Pitch is such a great opportunity for entrepreneurs working on a wearable technology product," said Stuart Marks, chairman of L Marks. "When presenting to buyers, it is always better to know them really well. What better way is there to learn about Topshop than work in collaboration with them for four weeks, developing your brand strategy as well as the direction your product will take."
A daily dose of IT news, reviews, features and insights, straight to your inbox!
Caroline has been writing about technology for more than a decade, switching between consumer smart home news and reviews and in-depth B2B industry coverage. In addition to her work for IT Pro and Cloud Pro, she has contributed to a number of titles including Expert Reviews, TechRadar, The Week and many more. She is currently the smart home editor across Future Publishing's homes titles.
You can get in touch with Caroline via email at caroline.preece@futurenet.com.
A daily dose of IT news, reviews, features and insights, straight to your inbox!
Thank you for signing up to ITPro. You will receive a verification email shortly.
There was a problem. Please refresh the page and try again.