Ford to mass-produce driverless cars in 2021
Audi to make cars that talk to traffic lights too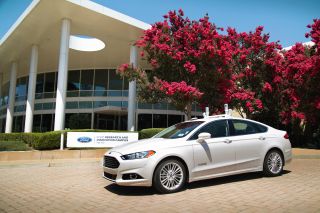 Ford has said it will produce driverless cars that have no steering wheel by 2021.
The plan was outlined by Ford's president Mark Fields at an event in Palo Alto, California. He said the automaker would double its research investment as well as make a number of investments in the field of driverless cars.
He said that cars without steering wheels or pedals would be on the road by 2021. The fleet of cars would act as taxis. Customers would be able to hail them like taxis, which would mean taking on the likes of Uber as well as the cab industry.
"The next decade will be defined by automation of the automobile, and we see autonomous vehicles as having as significant an impact on society as Ford's moving assembly line did 100 years ago," said Mark Fields, Ford president and CEO. "We're dedicated to putting on the road an autonomous vehicle that can improve safety and solve social and environmental challenges for millions of people not just those who can afford luxury vehicles."
The firm is also looking to triple its fleet of autonomous vehicles in a bid to be the largest test fleet of any car manufacturer.
Ford has also made a number of investments in the field. Among them are: Velodyne, the Silicon Valley-based company involving light detection and ranging (LiDAR) sensors; Israel-based computer vision and machine learning company Saips; Nirenberg Neuroscience, a machine vision company; and Civil Maps, developer of scalable, 3D mapping technique.
The carmaker is also expanding its Silicon Valley operations, including a campus in Palo Alto.
"Our presence in Silicon Valley has been integral to accelerating our learning and deliverables driving Ford Smart Mobility," said Ken Washington, Ford's vice president of research and advanced engineering. "Our goal was to become a member of the community. Today, we are actively working with more than 40 startups, and have developed a strong collaboration with many incubators, allowing us to accelerate development of technologies and services."
The news comes as Audi said it would introduce a technology that would enable its cars to talk to traffic lights. Known as "vehicle-to-infrastructure" or "V-to-I", the technology, the technology will see an exchange of data between the car and road infrastructure through the cloud.
It will appear in A4 cars built after 1 June and will be added to some Q7 models next year. It is hoped the tech will prevent some crashes and decrease traffic congestion.
Pom Malhotra, the general manager of Audi's connected vehicles division, told Reuters: "This is designed not as a safety feature, but a comfort and convenience feature."
The system was developed by Traffic Technology Services and will be introduced into Europe when the infrastructure is ready, according to Audi.
A daily dose of IT news, reviews, features and insights, straight to your inbox!
Rene Millman is a freelance writer and broadcaster who covers cybersecurity, AI, IoT, and the cloud. He also works as a contributing analyst at GigaOm and has previously worked as an analyst for Gartner covering the infrastructure market. He has made numerous television appearances to give his views and expertise on technology trends and companies that affect and shape our lives. You can follow Rene Millman on Twitter.
A daily dose of IT news, reviews, features and insights, straight to your inbox!
Thank you for signing up to ITPro. You will receive a verification email shortly.
There was a problem. Please refresh the page and try again.