What does 2016 look like for UK women in tech?
Programmes and initiatives abound, but there is more fundamental change needed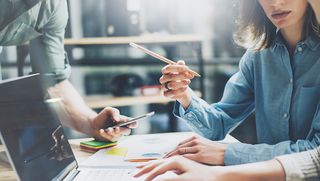 On the subject of diversity in tech, it's likely that more words have been written than problems solved; more issues discussed than initiatives put into action. The awareness of women's less-than-ideal reality within the industry may have never been as high, but change continues to be achingly slow.
There is good news. Increasingly, the correlation between workforce diversity and rate of growth is becoming apparent, with 53% of 263 respondents to Tech London Advocates 2016 digital survey saying they believed this to be true (compared to just 8.92% who didn't, 37.09% unsure). Despite this however, 60% of respondents admitted to not working with external initiatives to increase diversity.
Alongside this, traditionally-cited solutions such as recruitment quotas appear to have fallen out of favour (5.52%), with apprenticeship schemes (26.52%) and access initiatives within local communities (20.44%) proving most popular.
But problems are systemic and institutionalised, with ancillary industries such as the media or even toy companies failing and succeeding at different rates. It's clear that work still needs to be done, but what does life look like for women in the tech industry in 2016?
Not just women's problem
The issue of gender diversity has always been considered one for women to solve they must be more assertive, more skilled and overall less absent. But there appears to have been a slight shift towards the gender gap becoming an issue for all and men must do their part.
Nikki Watkins, leadership coach and head of LinkedIn's Women in Leadership programme, said: "The gender agenda can no longer be ignored. Women and men working together are a powerful force, and if businesses are to thrive they need to create a culture of inclusivity and embrace the innovation that diversity can bring.
"The problem in the tech sector is that many companies are not utlising the widest pool of talent available and may be unintentionally discriminating against women. Hence they reinforce sector stereotypes, especially at higher levels within a company, by promoting or employing a predominantly white male leadership team."
"If digital is the enabler then we all, men and women, have a role to play," added Accenture's Payal Vasudeva. "Businesses, government, educators and parents need to collaborate even more to inspire young girls with the impact these skills can have and encourage them to embrace a career with tech."
Earlier this year online recruitment firm Monster.co.uk launched the Tech Talent Charter a formal movement that would work towards eliminating gender bias in the recruitment process. The charter brought together key organisations such as Code First Girls, Stemettes and Apps for Good, among others.
Inspiration for the project came from a study that found that 75% of UK employers had no plans to encourage gender equality in the future, despite 47% of women saying they had either experienced inequality firsthand or witnessed it happen to someone else.
Rethinking tech skills
In order for change to occur, there's general agreement that we must focus on the younger generation. This means that schools and universities (along with parents) have to be informed and motivated enough to help make the future for women in tech a brighter one.
Anne De Kerckhove, CEO of subscription-based digital e-commerce firm, Iron, said: "The lack of women in tech stems from several misconceptions about our space. Very few women actually apply for roles in tech ... one reason is because women who don't know how to code don't apply for tech roles in the first place. I learned to code in undergraduate and I was terrible at it. Professionally, I have never produced a line of code for any of my businesses.
"You don't need to code to run or manage a tech business. You need to have a deep affinity with innovation and an ability to get things done. Women have both in spades. We need to be much clearer on the skills we want to attract. Women need to know we want them in our businesses. We cannot just hope they guess that they are welcome."
Colleen Smith, general manager at Progress OpenEdge, agreed that the unique skillsets women could potentially bring to a company are often overlooked or undervalued when discussing digital skills.
She said: "In this industry, the tech-savvy often get carried away with the nitty-gritty of technology, and trap themselves in complex technical details while failing to communicate why the technology itself is important and what added value it can provide to an organisations... It's a matter of understanding this advantage and making the most of it."
But technical skills such as coding are still important, if for no other reason that the UK's widening skills gap, potentially under even more strain following Brexit.
According to a 2015 report from Logicalis, based on a survey 1,116 UK 13-17-year-olds, while girls are still behind boys when it comes to coding 12% of girls had coded before versus 20% of boys - the opportunity to learn in the classroom is having an impact. While 46% of boys said they learned at school (versus 47% at home), 86% of girls are coding at school.
Outside of schools, there are organisations and campaigns such as Stemettes, Code First Girls and My Tech Future that aim to encourage and inspire girls under 16 (and students over 16) to study STEM subjects and eventually go on to enter careers where they are desperately needed.
Start-ups and the gender revolution
One part of the industry that does evoke optimism is the start-up community, which has proved to be more accepting of female leaders and more open to entrepreneurs from a range of backgrounds.
A study from March, for example, revealed that almost 60% of millennial entrepreneurs in the UK are women, which outstrips the global average of 47%. This contradicts concern that the overwhelming male-ness of VCs can create bias when it comes to funding, but demonstrates a shifting mindset.
"In order to attract more women in tech, we need more female role models across the entire eco-system that enables technology," said Iron's De Kerckhove. "We need more female business angels. We need more female VC's. We need more female heads of incubators. We need more female directors of innovation and we need more female board members."
Leila Powell, a data scientist at London-based cyber-security start-up Panaseer, said: "Individually, we need to speak up when we see sexism in the workplace. I ask this of you particularly if you're a man.
"There are excellent companies out there that foster a positive collaborative environment (I am lucky to be working for one). The cyber-security startup scene in the UK is growing rapidly and some are being founded by women who actively celebrate the value that females can bring to their business."
To achieve true diversity in the tech industry, everyone must work together. Work being done in schools will not bear fruit for some time, and so until then companies must strive to improve things at all levels of their business. As we near the end of 2016, it's clear that the year will be an interesting turning point for the sector, and one that could finally be the catalyst for true change to occur.
Get the ITPro. daily newsletter
Receive our latest news, industry updates, featured resources and more. Sign up today to receive our FREE report on AI cyber crime & security - newly updated for 2023.
Caroline has been writing about technology for more than a decade, switching between consumer smart home news and reviews and in-depth B2B industry coverage. In addition to her work for IT Pro and Cloud Pro, she has contributed to a number of titles including Expert Reviews, TechRadar, The Week and many more. She is currently the smart home editor across Future Publishing's homes titles.
You can get in touch with Caroline via email at caroline.preece@futurenet.com.