Uber opens AI lab to help power future of self-driving cars
Uber creates its own AI research division following Geometric Intelligence acquisition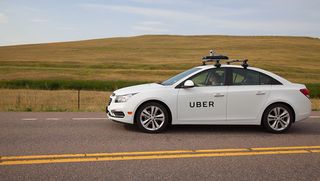 Ride-sharing service Uber has created its own AI division, which it hopes will help push the firm towards the roll out of self-driving cars.
Uber AI Labs will be staffed by 15 researchers from the newly acquired New York-based AI startup Geometric Intelligence, purchased by Uber for an undisclosed sum. Its CEO, Gary Marcus, who first founded Geometric Intelligence in 2014, will head the new division as director.
Uber hopes that AI will initially improve services including UberEATS and UberPOOL, by providing optimal routes and better predicting when and where services will be needed.
Further development should help deliver a wider fleet of self-driving cars, which have already been piloted in Pittsburg with a select number of customers since September.
"With all of its complexity and uncertainty, negotiating the real world is a high-order intelligence problem," said Uber chief product officer Jeff Holden. "It extends to teaching a self-driven machine to safely and autonomously navigate the world, whether a car on the roads or an aircraft through busy airspace or new types of robotic devices."
"In spite of notable wins with machine learning in recent years, we are still very much in the early innings of machine intelligence," added Holden. "The formation of Uber AI Labs represents Uber's commitment to advancing the state of the art, driven by our vision that moving people and things in the physical world can be radically faster, safer and accessible to all."
Proponents of AI, such as Facebook and Google, have invested heavily in the field of "deep learning", the process of teaching computers to recognise objects and images using huge amounts of data.
Speaking to the BBC, Marcus argued this solution falls short for a service like Uber, saying: "Deep learning is not all that it's cracked up to be. It's very good for certain problems, but it doesn't allow us to do the kind of inferences that people often do. We need next generation techniques."
The new division will instead develop systems that rely on the teaching of rule-sets so that computer learning can be done without the need for specific data input.
Marcus believes flying cars will be "something that is practical" in the not-too-distant future, allowing "people to take long commutes at 75 or 150 mph where you'd otherwise get stuck in traffic."
Geometric Intelligence is the latest acquisition in Uber's push for AI development, following a deal made in August to takeover self-driving trucking firm Otto. The adoption of AI driven vehicles will eventually remove the need for human drivers, putting hundreds of thousands of jobs at risk globally.
A daily dose of IT news, reviews, features and insights, straight to your inbox!
A daily dose of IT news, reviews, features and insights, straight to your inbox!
Thank you for signing up to ITPro. You will receive a verification email shortly.
There was a problem. Please refresh the page and try again.