Twitter ditches egg profile pictures to crack online abuse
Company hopes that whisking the old option away will scramble trolls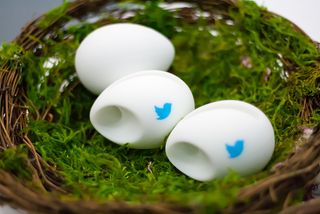 Twitter has changed the default profile picture for new users from the classic egg, in a bid to help combat negative associations with harassment on its platform.
New users will be greeted with a silhouette, similar to many other social networks. Twitter hopes that this will encourage users to upload a profile picture, which will in turn help discourage abuse.
"We've noticed patterns of behavior with accounts that are created only to harass others - often they don't take the time to personalize their accounts," the company said in a statement.
"This has created an association between the default egg profile photo and negative behavior, which isn't fair to people who are still new to Twitter and haven't yet personalized their profile photo."
For the past seven years, any new user who signed up to Twitter would have an egg as their default profile picture, a placeholder that was supposed to be swapped out for something more individual.
However, the iconic egg display picture has now become deeply linked to Twitter's endemic problems with trolls, harassment and abuse. Because anonymous accounts are frequently created with the sole purpose of attacking other Twitter users, the default avatar has now become associated with harassment.
The decision has been met with criticism from the Twitter community, some of whom are sad to see the egg icon go. Some have even gone so far as to deliberately change their display pictures back to eggs after the swap.
Others have suggested that the move won't do a huge amount to actually stem the tide of abuse being experienced by certain users, and that trolls are going to be a problem until the company takes proactive steps to stamp them out.
Picture credit: Garrett Heath
A daily dose of IT news, reviews, features and insights, straight to your inbox!
Adam Shepherd has been a technology journalist since 2015, covering everything from cloud storage and security, to smartphones and servers. Over the course of his career, he's seen the spread of 5G, the growing ubiquity of wireless devices, and the start of the connected revolution. He's also been to more trade shows and technology conferences than he cares to count.
As reviews and community editor, he's responsible for leading IT Pro's wide-ranging product coverage, and is an avid follower of the latest hardware innovations. He's never happier than when tinkering with complex network configurations, or exploring a new Linux distro.
In addition to managing the IT Pro Panel and working with the community of IT leaders that make it up, he co-hosts the IT Pro Podcast, where you can hear him ranting about his love of strange gadgets, his disdain for Windows Mobile, and everything in between.
You can find Adam tweeting about enterprise technology (or more often bad jokes) @AdamShepherUK, or you can email him at adam.shepherd@futurenet.com.
A daily dose of IT news, reviews, features and insights, straight to your inbox!
Thank you for signing up to ITPro. You will receive a verification email shortly.
There was a problem. Please refresh the page and try again.