The IT Press Tour: SouthSuite, Komprise and NetApp
There were some big surprises in store on the third day of the press tour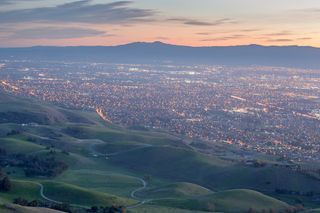 IT Pro is taking part in this year's IT Press Tour, which brings European journalists to California to meet with local tech companies and startups. On the third day of the tour, we met SouthSuite, Komprise and NetApp.
SouthSuite
SouthSuite traveled all the way from its headquarters in Georgia to tell us about its resurrection of founder Brantley Coile's last brand, Coraid. Coile developed the PIX firewall, which he sold to Cisco in 1995.
Coile left Coraid in 2014, and it went out of business in 2015, but in 2016 he acquired its trademark, domain name and technology.Coraid's products are now part of Coile's fourth company, SouthSuite. SouthSuite owns Coraid's IP and continues to offer AoE (ATA over-Ethernet) storage arrays and software technology. It has sold nearly 300 units and has customers in Europe and Australia.
SouthSuite has 10 employees and though it has a few outside investors, Coile doesn't see it as a startup. "We have no VC," he said, referring to venture capital funding. "We will grow as fast as we can based on the profit of the company."
Coile compared the business in Georgia to Silicon Valley, saying that "people are cheaper, things are cheaper and there's a lot of smart people out there as well."
No surprise after such comments that he's not a fan of the startup mentality, stressing how his hiring practices differ to Silicon Valley startups. "We hire people for life they don't have to stay for life, they can move but when I hire somebody, I make sure they are going to be happy to be in the company for the rest of their life."
Komprise
It was then onto Komprise, who we met at their headquarters in Campbell, chatting with COO Krishna Subramanian, CEO Kumar Goswami and CTO Michael Peercy.
Komprise's analytics software gives companies insight into their data so they can decide where to host it to reduce storage costs. It's particularly useful for data-intensive markets such as genomics, financial services and healthcare.
Komprise adjusts depending on what happens with the storage and offers interactive projections, for example showing how much money you could save if you moved data that hasn't been used in a year to the cloud.
The software is non-intrusive to the storage. "It runs as a lightweight software application as a virtual machine in a customer's environment," Subramanian explained. It doesn't have any agents, it won't change the main data pack and highlights what starts happening to your data in storage. Goswani said: "What we are really trying to build is a next-generation, data-management platform."
The COO highlighted that even though companies have storage management tools and know how much they pay a month for storage, it's hard to understand what's happening with a company's data at a finer level, a problem worsened by increasing amounts of data being collected. "The fact that we are drowning in data has become much more of an issue," Goswani added.
Subramanian said the company started three years ago and is a ventured funded company. Apart from its headquarters in Silicon Valley, it also has an office in Bangalore, India and has about 45 employees in total. It's just launching in Europe.
NetApp
We drove over to NetApp in Sunnyvale, where we met CEO George Kurian, Executive VP Joel Reich and founder Dave Hitz.
There, NetApp and Cisco announced their new FlexPod SF converged infrastructure solution, which includes NetApp SolidFire, all-flash, connected storage that the company recently acquired.
Kurian described SolidFire as "the backbone of the next generation datacentre" saying that almost 400 new NetApp customers have been added since the company was acquired.
The FlexPod SF is a continuation of the FlexPod technology portfolio which has been deployed by over 8,400 customers worldwide and 1,100 partners in 100 countries. It has also generated a total of $8 billion in combined revenue across Cisco and NetApp to date.
On the fourth day of the IT Press Tour, we met ProphetStor and Primary Data.
A daily dose of IT news, reviews, features and insights, straight to your inbox!
Zach Marzouk is a staff writer for IT Pro, Cloud Pro, and Channel Pro where he writes news articles and in-depth feature pieces primarily focused on Asia Pacific and the US. Aside from covering topics like security, privacy, worker rights, and startups, he also contributes to the IT Pro podcast and IT Pro 20/20.
After studying an undergraduate degree in Arabic and Spanish at the University of Leeds, Zach completed a journalism internship at The Argentina Independent in Buenos Aires where he wrote about the country's history, politics, and technology.
He then joined IT Pro in 2017 where he was introduced to the world of B2B technology as a junior staff writer, before he returned to Argentina in 2018, working in communications and as a copywriter. In 2021, he made his way back to IT Pro as a staff writer during the pandemic.
Contact him at zach.marzouk@futurenet.com or find Zach's thoughts (and more) on Twitter @ZachMarzouk
A daily dose of IT news, reviews, features and insights, straight to your inbox!
Thank you for signing up to ITPro. You will receive a verification email shortly.
There was a problem. Please refresh the page and try again.