UK Army gets £66m to boost military robotic projects
The government has contributed funds as part of the Ministry of Defence's Transformation Fund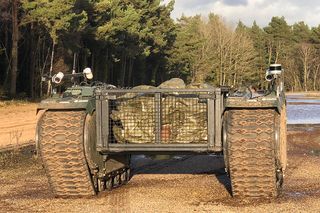 The government has said it's going to contribute a budget of 66 million to fund research and development of robotics to deploy in battlefields.
The money, contributed as part of the Ministry of Defence's Transformation Fund, will help develop technologies such as mini-drones, autonomous vehicles for testing the strength of the enemy and delivering supplies for use in warzones. They can be pushed out ahead of military front lines through remote control, thereby keeping soldiers out of immediate danger.
The government is hoping some of the projects developed as part of the initiative will be deployed to Estonia, Afghanistan and Iraq by the end of the year. Defence secretary Gavin Williamson said also said an additional 340 million may be made available later as part of its spending review.
"This announcement is a clear demonstration of how our Armed Forces are reaping the benefits from our new multi-million Transformation Fund," said Williamson. "Each of these new technologies will enhance our Army's capabilities whilst reducing the risk to our personnel and I'm delighted we will be revolutionising frontline technology by the end of the year."
The government's multi-million-pound Transformation Fund aims to build a highly-innovative armed forces for the future of defence and warfare, with the funding to fast-track projects that could change the way the military operates, making it one of the most digitally transformed parts of the government.
"The MOD has always embraced pioneering technology and this fund will ensure the UK stays at the forefront of global military capabilities and ahead of our adversaries," Williamson added.
A daily dose of IT news, reviews, features and insights, straight to your inbox!
A daily dose of IT news, reviews, features and insights, straight to your inbox!
Thank you for signing up to ITPro. You will receive a verification email shortly.
There was a problem. Please refresh the page and try again.