Tech industry calls for action over the death of George Floyd
The tech industry steps up in support of black Americans nationwide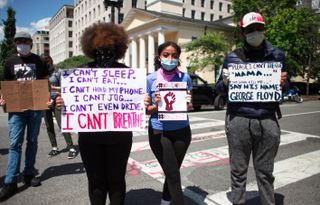 This past weekend, protestors gathered in cities nationwide to call attention to the death of George Floyd. Protestors aren't the only ones calling attention to Floyd's death or the prevalence of racism in the U.S., though. Over the weekend, the tech industry sounded off over Floyd's death, as many called for immediate action.
"The pain and emotional trauma caused by the racism and violence we are witnessing toward the black community has a long reach," Amazon CEO Jeff Bezos shared in an Instagram post. Bezos also encouraged users to read Shenequa Golding's Medium essay titled Maintaining Professionalism In The Age of Black Death Is….A Lot.
"*What* will it take for us to refuse to accept these unjust killings of black people? How many people must die, how many generations must endure, how much eyewitness video is required? What else do we need? We need better than what we're getting from courts and political leaders," Andy Jassy, cloud chief of Amazon Web Services asked in a tweet.
Microsoft posted its own comments on LinkedIn. CEO Satya Nadella remarked, "We need to recognize that we are better, smarter and stronger when we consider the voices, the actions of all communities, and you have my assurance that Microsoft will continue to advocate to have all those voices heard and respected."
"The video of George Floyd's brutal death broke my heart. I've watched the protests that followed and have felt overwhelmed with solidarity. And I'm listening as Black advocates and activists call on every American to treat racial justice as a shared responsibility," Melinda Gates added in a tweet thread posted Sunday evening.
With many tech companies and industry leaders contributing words of support and encouragement to the cause, Sherrell Dorsey, founder of The Plug, has started tracking tech company responses. At this time, companies such as Apple, Salesforce, Zoom and Square have made statements related to George Floyd's death.
A daily dose of IT news, reviews, features and insights, straight to your inbox!
A daily dose of IT news, reviews, features and insights, straight to your inbox!
Thank you for signing up to ITPro. You will receive a verification email shortly.
There was a problem. Please refresh the page and try again.