The technology powering the future of shopping
With the likes of Morrisons and Amazon Fresh embracing till-free checkout, will this trend lead to a new shopping experience?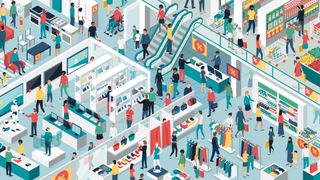 (Image credit: Shutterstock)
One of the fundamental behavioural shifts that's taken place during the pandemic is how we shop – or, more accurately, our desire to shop with little or no physical contact. What began as a novelty, as retailers experimented with self-service checkouts and till-free shopping, has now turned into a race to see which supermarket can deliver the ideal contactless shopping experience. Technology will be at the foundation of these changes.
RELATED RESOURCE
Three-step guide to modern customer experience
Support the critical role CX plays in your business
According to Ubamarket's Retail and Hospitality Trends report, 62% of Britons – some 28 million people – want to leave a supermarket within 20 minutes of entering one, with nearly half (43%) wanting their shopping experience in the future to involve as little human contact as possible.
The high street transformation has been ongoing for the past two decades as online retailing continues its relentless expansion, with the pandemic only hastened these changes. Consumers are continuously embracing new shopping technologies, as shown by the massive success of contactless payments, and the integration of several digital channels to deliver a seamless shopping experience across multiple digital devices.
Research conducted by US-based firm First Insight in August has shown that with the resurgence of the Delta variant, safety concerns around in-store shopping have begun to rise. In a survey of 10,000 American consumers, 53% of respondents said they felt unsafe trying on products in dressing rooms, 49% felt unsafe trying on shoes, and 71% felt unsafe testing beauty products. It also found that 56% of respondents felt unsafe working with a sales associate. These trends show that a low-touch, or no-touch, approach looks set to become a recognisable aspect of high street shopping.
Living life till-free
Embracing technology has always been key to enhancing consumers' shopping experiences. Interactive packaging has continued to evolve, with augmented reality (AR) the ideal candidate to move these experiences into the virtual space. For example, drinks retailer Beam Suntory has partnered with the music app Shazam to deliver an AR-based gaming experience at the point of sale that overlays video and 3D animations using an app to gamify the shopping experience.
How consumers pay for goods is a strong indication of how shopping behaviour, in general, is changing. Worldpay's general manager, EMEA, Pete Wickes, tells IT Pro how grocery shopping and the way we pay will rapidly change. "The appeal of the 'just walk out' model highlights a big part of what people have come to love about the online buying experience: Quick and painless checkouts," he says. "In the US, a major grocer has recently piloted a smart shopping cart which gives people a way to scan, weigh and pay for goods via an embedded tablet in their shopping cart. The solution presents itself as a bridge between the self-checkout stations we're all familiar with and the future of completely cashier-less experiences. At the fore of this is the easy, seamless way payments are made."
The novelty factor also can't be overstated as partner for retail at Infosys Consulting, Sachin Jangam, explains: "For now, the main clientele continues to be curious shoppers and tourists. The overall economics of store operations are still in question, given the reduced product range, high rental costs, and significant technology investments required. 'Just walk out' will likely remain in a trial period for the next few years before we start to see mass rollouts. Beyond technology, leaders will be paying close attention to store profitability before putting money behind this innovation."
For Melissa Minkow, retail industry lead at CI&T, technology notwithstanding, the human experience is still essential. "Till-less will be important for the future of retail, but its impact won't be the same in every sector or market," she says. "It's no one-to-one replacement for a social shopping experience, and it's unlikely to have much penetration into categories where a great deal of the value comes from the advice or service of the sales associate. This includes beauty, electronics, pets and furniture. Despite the wealth of information available to shoppers online, there's an irreplaceable comfort in being able to ask a brand representative about a product – especially when it concerns a beloved pet or your skincare routine."
Post-pandemic shopping
Figures from the British Retail Consortium show that in the second quarter of 2021, the overall shopping centre vacancy rate increased to 14.5%, meaning there have now been more than three years of rising vacancy rates. Almost one in five shopping centre units now lies empty, and more than one in eight units have been empty for more than a year.
Bricks and mortar retailers embracing new shopping technologies to allay customers' anxieties could be part of the solution to revitalise the high street. Online retailers also see an opportunity to harness their vast customer numbers and offer a physical shopping experience. In March, the first Amazon Fresh store opened in Ealing, West London, offering a frictionless shopping experience; customers use an app to scan the barcodes of the products they want to buy and simply walk out of the store. They're later sent a receipt after being charged for their shopping. Is this the future of contactless mass retail shopping, or a short-lived novelty that consumers abandon as life starts to return to normal?
Linda Ralph, SVP international at Mood Media, tells IT Pro that innovations like these are more than a short-lived anomaly. "The pandemic has potentially offered till-less shopping the best shot at success, introduced at a time when there's a very real need for it," she says. "Social distancing is still being observed in many retail spaces and anxiety around COVID persists. Till-less shopping can serve the need to demonstrate a commitment to a clean, efficient shopping service that minimises contact, while at the same time providing the convenience and experience many shoppers crave and miss when shopping online."
RELATED RESOURCE
Three-step guide to modern customer experience
Support the critical role CX plays in your business
Minkow concludes that, ultimately, it's the retailers that integrate till-free commerce into the wider omnichannel experience – rather than seeing till-free as an end in itself – that will see the greatest success. "Considering the retailer's app is the foundation for the model, these stores can quite easily be incorporated," she adds. There's little doubt that some form of till-free retail experience will exist on the high street as more businesses experiment with the technology; the pandemic has only accelerated the development of these stores with changing consumer behaviour. Coupled with the expansion of online spaces, and consumers driving the integration of the shopping channels they use, how we buy the products we want will likely change forever.
Get the ITPro. daily newsletter
Receive our latest news, industry updates, featured resources and more. Sign up today to receive our FREE report on AI cyber crime & security - newly updated for 2023.
David Howell is a freelance writer, journalist, broadcaster and content creator helping enterprises communicate.
Focussing on business and technology, he has a particular interest in how enterprises are using technology to connect with their customers using AI, VR and mobile innovation.
His work over the past 30 years has appeared in the national press and a diverse range of business and technology publications. You can follow David on LinkedIn.