How Europe can become a market leader in AI
The US and China lead in the AI arms race, while European countries currently lag behind. What can they do to catch up?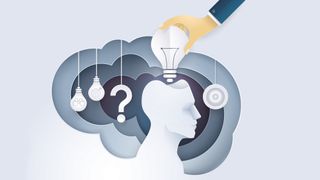 It's no secret that artificial intelligence (AI) offers immense opportunities. As reported by the Wall Street Journal, Gartner predicts 80% of emerging tech will have a foundation in AI by 2021, while IDC claims that over $97 billion (£73.7 billion) will be spent on AI systems by 2023.
While AI is evolving on a global scale, China and the US have emerged as superpowers in this area. According to research from IP specialist firm OxFirst, Chinese companies have 106,650 AI patents and American companies have 60,003. But European companies fall behind massively, with just 5,201 patents overall. Will Europe catch up?
Huge potential
Although the US and China dominate the AI space, some experts believe that Europe has the potential to take them on and lead in the area. Russ Shaw, founder of Tech London Advocates, says: "Europe has all the ingredients to become a world leading region, particularly if VC investment in the continent's companies are an indicator of growth potential.
"A number of tech hubs are going from strength to strength in Europe, from Paris, Berlin, Amsterdam, Stockholm and Madrid to emerging regions across Central and Eastern Europe."
He believes that the UK, in particular, is a catalyst of AI innovation. Shaw tells IT Pro: "London and the UK more broadly boast a set of outstanding academic institutions to support cutting edge research, which are so often the birthplace of breakthroughs in AI. Furthermore, London's adjacency to a prominent financial district, and its global milieu, provide AI innovators with easy access to funding and skilled workers."
But he admits there are many obstacles European countries must overcome if they want to compete with the US and China. "Where European tech hubs stumble is the ability to scale their companies. Despite the academic prowess, many AI companies fall at the first hurdle, as not all universities are efficient at commercialising the innovation that starts there," says Shaw.
"Beyond this, political turbulence such as the Brexit process threaten a cohesive single market and the free movement of workers that could support the scaling of AI and other tech companies across European markets."
The key to Europe succeeding in this area, according to Shaw, is collaboration across the continent. He adds: "To rival the likes of the US and China, European tech leaders and governments must collaborate to scale AI companies from idea to market leader, protect their companies' IP from overseas acquisition, and develop strong tech centres and innovation hubs without resorting to isolationism."
Growing challenges
Another challenge is a growing digital skills gap in Europe. In 2017, the European Commission warned that the continent could witness a shortfall of 756,000 technology workers by 2020.
Rob Lamb, chief technology officer of Dell Technologies in the UK, says: "For Europe to compete effectively with the rest of the world, we have to see a stronger investment focus to fill our skills and competency gaps.
"Organisations could have all the high-quality data in the world at their fingertips, but without the skilled professionals able to manage and use that data, business leaders will be left frustrated with their inability to fully leverage their AI solutions."
RELATED RESOURCE
IT Pro 20/20: Augmenting our new reality
Our second issue looks at the technology that's helping to make us all more mobile
To grasp this opportunity, Lamb says European organisations must develop an enterprise-wide data strategy, hire skilled professionals and foster a company culture that embraces innovation.
"Implemented well, AI can have a significant positive impact on roles, can create new opportunities and change industries, but unlocking this potential means helping people to be open to how the world may look in five or ten years' time," he adds.
Nikolas Kairinos, founder and CEO of Soffos, says excessive red tape, legal limitations, and a lack of strong governmental support threaten Europe's position in the global AI 'arms race'.
He says: "I am sceptical of Europe's ability to become a market leader in AI. That said, the opportunity exists if the EU works harder to encourage innovation in this field. Digital behemoths like the US and China are currently far more willing to protect mental creations in the field of AI research, and will reap the rewards of being the first to patent novel applications of algorithms and software."
Supporting AI companies
Despite these challenges, Europe has achieved numerous successes in the global AI industry. Martha Bennett, VP and principal analyst at Forrester, says: "It's worth remembering that Europe has been the birthplace of globally ground-breaking AI firms; recent examples that spring to mind are DeepMind in the UK and Blue Yonder in Germany. Both got acquired by US companies. So it's not about lack of talent or innovation."
Bennett says that Europe is doing a great job at both commission and country level, fostering innovation and extending grants to startups. But she believes that more needs to be done to support European AI firms as they grow.
"What's missing is an environment that's conducive to scale-up. For Europe to become a leader in AI, this is the area that most needs fixing," she says. "It's also worth noting that there's one area in which Europe is already a world leader, and that's in … providing guidance (leading to actual regulation if necessary) for ethical and trustworthy AI."
The possibilities offered by AI are endless, and it's exciting to see new developments constantly emerging. But there's a real risk of Europe falling behind in the development and uptake of this technology. Clearly, European governments have a lot of work to do if they want to lead in this area.
Get the ITPro. daily newsletter
Receive our latest news, industry updates, featured resources and more. Sign up today to receive our FREE report on AI cyber crime & security - newly updated for 2023.
Nicholas Fearn is a freelance technology journalist and copywriter from the Welsh valleys. His work has appeared in publications such as the FT, the Independent, the Daily Telegraph, the Next Web, T3, Android Central, Computer Weekly, and many others. He also happens to be a diehard Mariah Carey fan. You can follow Nicholas on Twitter.