£90 million 'future transport zones' will fuel UK smart cities
Smart city projects include using drones to deliver medical supplies and data to smarten up bus routes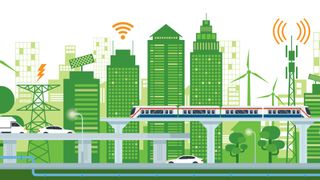 The government has injected £90 million into funding three 'future transport zones' across the UK aimed at establishing whether smart and green technology can be adopted.
Three transport zones will serve as a playground for academics and experts, in partnership with businesses and local bodies, to test innovations in the movement of people and goods.
These will be located in the West of England Combined Authority, Portsmouth and Southampton, and Derby and Nottingham.
One project, for example, will trial the use of drones for carrying medical supplies from clinics in the Isle of Wight to hospitals in the mainland. This will cut down the time spent moving supplies by ferry or road while speeding up diagnosis.
"We are on the cusp of a transport revolution. Emerging technologies are ripping up the rulebook and changing the way people and goods move forever," said transport secretary Grant Shapps.
"Our groundbreaking future of transport programme marks the biggest review of transport laws in a generation and will pave the way for exciting new transport technology to be tested, cementing the UK's position as a world-leading innovator.
"This review will ensure we understand the potential impacts of a wide range of new transport modes such as e-scooters, helping to properly inform any decisions on legalisation. Funding these new zones across the country will also help us safely test innovative ways to get around, creating a greener future transport system for us all."
This has been announced alongside a regulatory review into smart transportation methods, which invites feedback on issues such as whether e-scooters should be allowed on roads, and how whether there's any merit in ideas such as mobility as a service (MaaS).
These measures will feed into the development of the UK's smart cities frameworks. The consultation, which is open until 22 May, aims to gain advice on how to best exploit the digital infrastructure that's already in place to ensure the nation's transport networks can be smarter and more efficient.
As part of its future transport zones project, meanwhile, the government will be testing how public transport journey planning and payment can be made easier. For example, regulations can be reviewed to ensure bus services work in a similar way to on-demand taxi services or private hire vehicles.
The shift to MaaS, which involves networks built with intelligent design and incentive structures, aims to reduce car ownership and shift people towards smarter transportation models. Platform providers, moreover, will be generating a large amount of data about commuter behaviour which could potentially help local authorities better understand and manage the smarter transport networks.
Smart city projects, known to generate masses of data, rely on this information being open and accessible by all parties.
Certain projects have been underway across the UK for a number of years, although these have largely been contained in test or pilot stages. The Mayor of London Sadiq Khan, for example, outlined his smart city roadmap for London two years ago, in which the capital's AI companies would play a leading role in impoving processes around the city.
A daily dose of IT news, reviews, features and insights, straight to your inbox!
Keumars Afifi-Sabet is the Features Editor for ITPro, CloudPro and ChannelPro. He oversees the commissioning and publication of in-depth and long-form features across all three sites, including opinion articles and case studies. He also occasionally contributes his thoughts to the IT Pro Podcast, and writes content for the Business Briefing. Keumars joined IT Pro as a staff writer in April 2018. He specialises in the public sector but writes across a breadth of core topics including cyber security and cloud computing.
A daily dose of IT news, reviews, features and insights, straight to your inbox!
Thank you for signing up to ITPro. You will receive a verification email shortly.
There was a problem. Please refresh the page and try again.