Microsoft Edge Browser adopts Chrome-based code
Edge will be rebuilt to run on Chromium to be more compatible with web technologies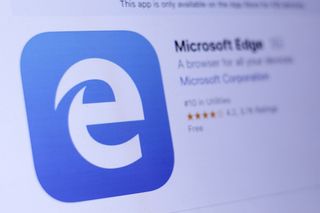 (Image credit: Shutterstock)
Microsoft is making changes to its Edge Browser by adopting the Chromium open source project, the same web rendering engine that powers Google Chrome. What's more, as it will be open source, the browser will also be made available on MacOS.
Microsoft said it intends to align the Microsoft Edge web platform simultaneously with web standards used by other Chromium-based browsers to deliver improved compatibility by creating a simpler test-matrix for web developers.
"Today we're announcing that we intend to adopt the Chromium open source project in the development of Microsoft Edge on the desktop to create better web compatibility for our customers and less fragmentation of the web for all web developers," wrote Joe Belfiore, corporate VP of Windows, in a blog post.
"As part of this, we intend to become a significant contributor to the Chromium project, in a way that can make not just Microsoft Edge, but other browsers as well, better on both PCs and other devices."
Belfiore argues that it's for the benefit of users, IT departments and developers, but most will point to the fact that Internet Explorer has still remained more popular since Edge was released three years ago. According to Net Market Share, Internet Explorer is the second most popular browser with an 11% share of the market, whereas Edge was less than half of that with a pitiful 4%.
Both of those numbers look pretty poor when compared to the most popular browser, Chrome, which enjoys a 63% share. And, those percentages are just for desktop browsers.
It's a significant move towards the open source community and an intent to collaborate with the likes of Apple, Google and anyone else who also commits changes to Chromium.
"Microsoft Edge will now be delivered and updated for all supported versions of Windows and on a more frequent cadence," added Belfiore. "We also expect this work to enable us to bring Microsoft Edge to other platforms like macOS.
"If you're part of the open-source community developing browsers, we invite you to collaborate with us as we build the future of Microsoft Edge and contribute to the Chromium project. We are excited about the opportunity to be an even-more-active part of this community and bring the best of Microsoft forward to continue to make the web better for everyone."
A daily dose of IT news, reviews, features and insights, straight to your inbox!
Bobby Hellard is ITPro's reviews editor and has worked on CloudPro and ChannelPro since 2018.
In his time at ITPro, Bobby has covered stories for all the major technology companies, such as Apple, Microsoft, Amazon and Facebook, and regularly attends industry-leading events such as AWS Re:Invent and Google Cloud Next.
Bobby mainly covers hardware reviews, but you will also recognise him as the face of many of our video reviews of laptops and smartphones.
He has been a journalist for ten years, originally covering sports, before moving into business technology with ITPro. He has bylines in The Independent, Vice and The Business Briefing.
Contact him at bobby.hellard@futurenet.com or find him on Twitter: @bobbyhellard
A daily dose of IT news, reviews, features and insights, straight to your inbox!
Thank you for signing up to ITPro. You will receive a verification email shortly.
There was a problem. Please refresh the page and try again.