Google targets ads with blocker built into Chrome
Rumoured Chrome ad blocker will arrive in 2018, with Google offering tools to help publishers fall into line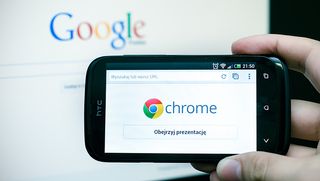 Google has confirmed rumours that it's rolling out its own ad blocker built into the Chrome browser, giving publishers until next year to clean up their sites to avoid problems.
Over the past few years, ad blockers have risen in use, though that's leveled out to 22% of web users this year. Reports suggested Google was planning to offer a blocker or ad filter in Chrome by default, similar to Opera, and that now looks set to happen next year. Chrome already blocks pop-ups, which are frequently used for advertising.
Sridhar Ramaswamy, senior vice president of ads and commerce at Google, said in a blog post that most online content is funded by advertising. "But the reality is, it's far too common that people encounter annoying, intrusive ads on the web - like the kind that blare music unexpectedly, or force you to wait ten seconds before you can see the content on the page," he said. "These frustrating experiences can lead some people to block all ads - taking a big toll on the content creators, journalists, web developers and videographers who depend on ads to fund their content creation."
To help, Chrome will start blocking ads that "are not compliant with the Better Ads Standards starting in early 2018," Ramaswamy said, stressing that includes ads that are "owned or served by Google". That's a message Google will be keen for people to hear, as it's one of the largest online advertisers. EU Commissioner Margrethe Vestager tweeted after the move was rumoured earlier this year that she'd be following the plans and its effects "closely".
Conveniently, most of Google's ads already comply with that standard, The Guardian reported, in particular its text-based search advertising. The Coalition for Better Ads standard calls for sites on desktop to stop using pop-up ads (already blocked by Chrome), auto-playing video ads with sound, prestitial ads with a countdown, and large "sticky" ads that hover over content. On mobile, it also includes animated ads, ad density above 30%, full-screen scroll-over ads, and large sticky ads, among others.
For those who don't already meet the standard, Google is also offering a tool to help publishers concerned the ads on their sites may fall foul of the new blocking system, letting them get an "Ad Experience Report" to see how the Better Ads Standards would apply to their own advertising. "It provides screenshots and videos of annoying ad experiences we've identified to make it easy to find and fix the issues," said Ramaswamy.
Google is working on another tool that could let publishers offer to let visitors continue using their ad blocker if they pay up. "With Funding Choices, now in beta, publishers can show a customised message to visitors using an ad blocker, inviting them to either enable ads on their site, or pay for a pass that removes all ads on that site through the new Google Contributor," Ramaswamy said.
Seismic impact of ad blockers
The UK arm of the Internet Advertising Bureau welcomed the move by Google. "We at the IAB UK warmly welcome any industry change that promotes better digital advertising with a view to making a better consumer experience," a spokesperson said. "Google's move quickly puts weight behind the stance set by the Coalition for Better Ads following the release of their better ads standards."
Ben Williams, operations manager at AdBlock Plus, said the move showed the "seismic impact that consumer tools like ad blockers have had on the billion dollar ad industry."
He noted AdBlock Plus works across browsers and mobile, letting "users filter as much or as little as they like".
"We also see the need to give users alternative options to directly fund websites and content creators without relying on advertising, which is why we work on Flattr, a zero-click payment system that works across all browsers on any website," he added.
A daily dose of IT news, reviews, features and insights, straight to your inbox!
A daily dose of IT news, reviews, features and insights, straight to your inbox!
Thank you for signing up to ITPro. You will receive a verification email shortly.
There was a problem. Please refresh the page and try again.