Reveal the wireless world around you with the best Wi-Fi scanner tools
Uncover crowded Wi-Fi channels, find free hotspots and reveal where the wireless dead zones are in your home and business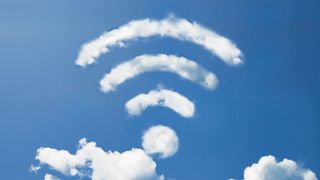 Acrylic Wi-Fi Home
What we liked
Acrylic Wi-Fi Home is the free version of a professional wireless network analysis tool, but it doesn't feel like a cut-down program and offers pretty much all the features users would ever need. It provides real-time monitoring of surrounding Wi-Fi networks, is able to scan both the 5GHz and 2.4GHz bands, and supports the latest 802.11ac wireless standards, as well as older b/g/n ones.
It helps that the program has a very smart user interface that mimics the look and feel of Windows 10's modern apps, even though it's actually a standard program. You can switch between two different views by clicking the menu button and toggling Advanced Mode on or off. If you leave this setting disabled, the program shows a list of available networks at the top of the screen, with a real-time signal strength graph in the bottom right and a simple star-rating score for the network quality of each network you click on. Flip on Advance Mode, however, and the star ratings disappear in favour of additional tabs that let you view graphs displaying which networks are using which channels.
Acrylic Wi-Fi also lets you personalise its interface. For example, you can change the colours for colour-coded elements and select your own network refresh rate for the real-time monitoring. You can also set the program to launch in Advanced Mode by default, should you prefer. Click the menu, then select Configure for these options and more.
How it can be improved
One thing that slightly annoyed us about Acrylic Wi-Fi Home was the way it forced us to agree to anonymous usage reports on installation. Luckily, there's a way to opt out of this once the program has been installed click the menu button and select Configure, then choose your preferred options from the 'Error reporting' dropdowns. Assuming you don't want to spend 30 to unlock the tool's advanced features, you'll also need to ignore the frequent encouragements to 'Go Pro'.
Verdict
It might not have all the features of the Pro version, but Acrylic Wi-Fi Home is generous for a freebie. It's also well laid out, customisable and very easy to use.
Features: 5Performance: 5Ease of use: 4Overall: 5
Homedale
What we liked
Homedale's big selling point is its simplicity. Information is presented via a clean, unfussy interface with six tabs running along the top of the window, including Adapter Overview (to see information about your device's wireless adapter), Access Points (to view info about networks in range) and Frequency Usage (for a graphical representation of the channels nearby networks are occupying). Usefully, there's a built-in Locate Me tool (under the Location tab), which uses Google Geolocation and Open WLAN Map Service data to pinpoint your whereabouts on a Google Map.
Homedale is a portable application there's nothing to install, you just unzip the download and run the .exe file whenever you want to use the program. This means that it won't install any unwanted software on your PC. Plus, you can run it from an external drive, should you need to.
How it can be improved
It's not necessarily Homedale's fault, but Windows Defender SmartScreen falsely identifies the program as a potentially dangerous app. It's definitely safe, though (we verified this at visrustotal.com), so just click 'More info', then 'Run anyway' in the warning message that opens when you attempt to run the tool for the first time.
Verdict
It might not be as pretty to look at as some of its rivals, but it presents lots of information in a straightforward way and offers some useful extra options, such as its location tool.
Features: 5Performance: 5Ease of use: 4Overall: 5
WiScan
What we liked
WiScan scans both 2.4GHz and 5GHz bands (assuming your PC's adapter supports both) and supplies signal strength, security and other information for all networks found. Tabs at the bottom of the program window let you switch between Beacons (a colour-coded list of all the access points available) and a useful map view of the 2.4GHz or 5GHz channels, which lets you easily see when several networks are crowded together on the same channel. Shortcuts at the top of the window screen provide quick ways to refresh your scan, set a timer interval, report your results and more. You can give access points aliases 'main router', 'upstairs homeplug' and so on for easy identification.
WiScan comes in two versions a Windows installer and a zip file containing a portable version.
How it can be improved
Like Homedale, the portable version of WiScan may be falsely accused of being malware by Windows Defender, which could put people off it's safe to use, though. Unlike Homedale, however, WiScan prefers to present its information in a somewhat garish, amateurish-looking interface. There are a few archaic language choices 'beacons' instead of access points and BSSID instead of MAC address which can be a little confusing.
Verdict
Extra features are few and far between and some of the interface's design elements feel a bit clunky, but WiScan is a very easy-to-use free tool for analysing nearby networks.
Features: 4Performance: 4Ease of use: 4Overall: 4
Best of the rest
WifiInfoView
For a basic analysis of the wireless networks around you, this tool (from the ever-dependable NirSoft) may well be all you need. It scans the local area and presents lots of information about the networks it finds, including for SSID, Mac address, network type, channel number and much more. It lacks graphical views and real-time monitoring of some Wi-Fi tools, but includes useful info, such as router make and model.
WiFi Commander
WiFi Commander is notable partly because it's a Windows Store app, rather than a standard program. But it also caught our attention thanks to its rather cool 3D grid view of nearby networks, which makes it easy to see which channels are the busiest. The downside is that it costs 3.29, but there's a free trial you can download to see if it's worth coughing up cash for.
Ekahau Heatmapper
This tool requires a bit of legwork and works best if you have a floorplan of your home. Wander around, clicking your current location on the floorplan to create a 'heatmap' showing where your network's wireless signal is strongest (and weakest). Though free, you have to sign up for emails before you can download it (you can opt out later). Ekahau Heatmapper is very useful but, sadly, it hasn't been updated in quite a while.
Main image: Shutterstock
Get the ITPro. daily newsletter
Receive our latest news, industry updates, featured resources and more. Sign up today to receive our FREE report on AI cyber crime & security - newly updated for 2023.