Is Digg facing a takeover?
A slowdown in the world's markets seems to matter little when it comes to a bit of social networking shopping. Is Digg.com next on the acquisition rollercoaster...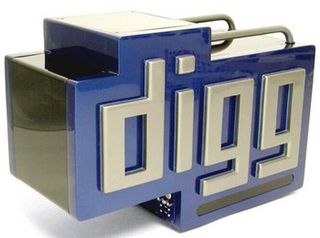 When Microsoft paid out $240m for a 1.6 per cent share of the social networking phenomenon Facebook, it single-handedly managed to up the stakes in the marketplace in quite dramatic fashion.
Not least because Microsoft has bought itself influence in the Facebook empire; far from it, it seems, with even the more sympathetic observer likely to regard the deal as 'a gamble'. No, its key move was to ratify the $15 billion valuation that Facebook's owners had placed on it, thus seemingly moving the price tag for every other social networking site heavily north. In one swoop, it could have cut Yahoo's chances of buying into a major social networking platform, for instance, and it's certainly scared plenty away from buying Facebook outright as a result.
But it's also generated real interest in the marketplace too, and the inevitable result of much speculative attention is a service that's no stranger to potential takeover talk: Digg.
The background
Digg is one of the overriding success stories of the Web 2.0 trend, and pretty much stands alone as a web service that can single-handedly turn others into a success too.
There's an indicator of Digg's influence at the bottom of this story. IT PRO, along with many other web destinations across the internet, now feature stories that at the bottom include an invitation to submit stories to Digg. And the reason is simple: a successful Digg can bring in a dramatic influx of traffic. Sure, there are also invitations to rival services such as Reddit, Yahoo-owned Deli.Icio.Us and Slashdot, but it's the Digg numbers that the majority of websites are chasing. And with 17 million visitors a month passing through the Digg.com page, there's plenty to go round.
The actual principle behind the Digg service has remained pretty much unchanged since it was founded by a group of four (Jay Adelson, Owen Byrne, Kevin Rose and Ron Gorodetzky, all of whom are still active in the company) back in 2004. Their plan was to initiate a site that could promote stories on others through a democratic system, rather than allowing editors to determine what gets priority and what doesn't. As the site proclaims in its 'About Us' section, "From the biggest online destinations to the most obscure blog, Digg surfaces the best stuff as voted on by our users".
In theory, then, a user could peruse the internet, find something they like, and 'Digg' it. One Digg equals one point, and should several hundred, or even thousand, users feel the same way, then the score rockets. A high Digg score, supposedly, then shoots a story to the front of the site, and pretty much guarantees a huge procession of traffic to the website in question, on occasion bringing the recipient site to the point of collapse. On the flip side, users also have the option to 'Bury' stories that they dislike, or feel are being inappropriately dug.
The impact
There's little doubt about it: Digg can pretty much instantly direct tens of thousands of visitors to even the smallest of sites, and that's why so many are keen to encourage their visitors to utilise it. Tens of thousands of users, after all, are ripe for conversion into advertising pounds, and thus no wonder so many are keen to attract the attention of the Digg user.
But like most democracies, there are frays around the edges. Some, for instance, question the subtle editorial control that the Digg management exerts on its site. Many have alleged that anti-Digg.com stories tend to be quietly buried, for instance. And it's also very much a two-sided coin: while even a few dozen users Digging can direct traffic to a website, a number of people burying a story can have the opposite effect. In fact, there's a strong argument that the impact of Burying a story is far in excess of Digging it.
For the ranking system doesn't truly work on straight democracy. Your chances of getting to the top of one of Digg's story lists, for instance, are hit if it's an influx of new users that have done the Digging. Likewise, should an army of the same people keep Digging the same stories, that affects ranking too.
Furthermore, allegations have also arisen that there's effectively a comparably small group of users who can make or break a story. Last year, seomoz.org analysed Digg's own figures and worked out that of all the stories to ever hit the front page of the site, 20 per cent of them had come from just 20 different users. Furthermore, the site argued that the top 100 users of the service were responsible for anywhere up to 56 per cent of Digg's front page content. If true, that's hardly democracy at work.
There are, certainly, some search engine-esque mechanics that sit alongside the democratic ideals of the Digg site. Almost inevitably that means genuine users tend to get caught up in the policing net too, and controversy hasn't followed too far behind.
The power
Yet the truth remains that Digg possesses a rare and much-desired power, that's pretty much unrivalled in the Web 2.0 space. Much though Facebook and MySpace may service greater advertising potential, and much though Digg has virtually no full content of its own on its servers that you couldn't find elsewhere, it's nonetheless become a highly effective compilation of web material. And it's one with a growing army of regular users.
Furthermore, its influence continues to spread away from simply 'geeky' stories into more mainstream reporting, and numbers continue to shoot up as a result. Original users of the site may not like the antics of Paris Hilton and Britney Spears served up next to their Intel and AMD news, but it certainly does Digg's traffic and market proposition little harm.
All of this, of course, seeks to make the site a magnet for takeover speculation, which in the light of Microsoft's Facebook investment has done little but gather pace. And the reason why it could be Digg's turn in the spotlight may fall back to something rudimentarily very simple: price.
Unlike MySpace, which sold for nearly $580m and is now valued at many times that, and unlikely the aforementioned Facebook, the numbers surrounding Digg sound surprisingly modest in comparison. In fact, should they prove to be true, then the word 'bargain' could well be appropriate. For reports that have been circulating in the last week or so hint that a deal is already in the offing for the Digg business, with the price tag in the region of $400m.
Unsurprisingly, this number has taken a lot of analysts by surprise, as - even considering the current economic climate that's made borrowing money a more costly business - it's a far lower number than many were expecting. A recently-inked Microsoft-advertising deal alone was rumoured to be worth at least $100m for three years, and in a time where price tags are being routinely inflated, Digg's value is certainly modest.
What's perhaps still more surprising is the names that are circulating with respect to a deal. Because what's different here is that many players have become distant from a deal, with the likes of Yahoo ruled out, along with American broadcasting group CBS. Google, too, isn't believed to be a potential suitor.
Instead, the focus has been shining on US online technology publisher Cnet Networks and pair of newspaper companies - The Washington Post Co and The New York Times Co - as the suspected media outlets that are in the running. This would fit the template for buyers of social networking sites: the aforementioned MySpace went to News International, for instance, while Conde Nast has picked up Reddit.com as well. The assorted rumours have been met with stony silence from Digg thus far.
This isn't the first time that Digg has been linked with a potential takeover deal of course, as across the last year or two, its name has quietly popped up in dispatches as a potential target on more than once occasion. Notably after key social networking acquisitions - Google/YouTube and News International/MySpace, for instance - have the rumours been fuelled.
And it's believed that beyond mere rumours, some work has been done in the past on potential deals, only for matters to end without a resolution. Yahoo!, for instance, was linked with a potential purchase last year, only to eventually snap up rival Del.icio.us instead. News International too was linked with Digg back in the Autumn of 2006, although again this came to nothing.
Given the intensity of the current reporting around the Digg.com rumour, however, there seems more fuel than we're used to seeing surrounding the story. The Washington Post angle in particular seems to have credence, not least because it is an organisation with the financial muscle to broker such a deal (perhaps more so than its New York rival). And it's clear that a media company, rather than a technology firm, is going to be more the more logical and likely home for Digg in the future. The Washington Post simply fits the bill.
Our prediction here is that perhaps the time for a Digg deal is approaching. As with other similar services we've explored in our Vulnerable To Takeover features, it's in an enviable position where there's no obvious need or pressure to sell up short of maximising market valuation.
But Digg is nonetheless on the shopping lists of some companies right now, and with the four founders likely to be transformed into millionaires many times over within three years of starting Digg, a deal here is surely a case of when rather than if. Don't be surprised to hear an announcement before the end of 2007.
Whether you agree or not, would you be kind enough to Digg the story?
Get the ITPro. daily newsletter
Receive our latest news, industry updates, featured resources and more. Sign up today to receive our FREE report on AI cyber crime & security - newly updated for 2023.
Get the ITPro. daily newsletter
Receive our latest news, industry updates, featured resources and more. Sign up today to receive our FREE report on AI cyber crime & security - newly updated for 2023.
Thank you for signing up to ITPro.. You will receive a verification email shortly.
There was a problem. Please refresh the page and try again.