Need to Know: Intel's Xeon 5500
Right now every major vendor is falling over itself to release servers and workstations using Intel's new Xeon processors...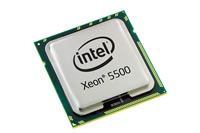 Intel has been attracting a lot of headlines for its new Xeon but what's all the fuss about? We peel the onion to find out what's special about the new technology inside the processor.
Why 5500?
The new series of Xeon processors is called the 5000 series. To explain Intel's numbering scheme - this denotes that it's aimed at standard two socket servers and workstations. To put this into context, the Xeon 3000 series is aimed at entry level severs, while the Xeon 7000 is for 4-32 socket enterprise class systems. (Intel also offers 9000 series models using its specialist Itanium series).
The 5500 series is based on Intel's Nehalem micro architecture, which first appeared as Intel's Core i7 chip, which has been available to buy in consumer PCs since last November.
OK, tell me more...
The chip is built on a 45nm manufacturing process. This refers to the size of the transistors laid down on the chips, (a nanometre is a billionth of a metre). The smaller the micron process, the more transistors can be packed into a given space, making a processor more powerful or smaller or both.
Another benefit is that they become cheaper to produce, once you've got the process down pat, and they run cooler too. Intel was the first to reach 45nm last year.
Since 2006, the chip company has been operating what it calls a tick/tock policy. That is one generation will shrink the manufacturing process (tick) while the next will introduce a new micro architecture (tock) and with its new features Nehalem is very much the tock.
What about the chipset behind this magic?
The processor runs on the 5520 chipset, which natively provides 42 lanes of PCI Express . This provides enough bandwidth for 18 DIMM slots, which means a theoretical maximum of 144GB and three channels to connect the memory to the CPU.
How does memory stack up?
Memory support is pretty key. An advantage of the new processor is that it supports industry standard 1,333MHz DDR3 RAM, rather than the expensive fully-buffered RAM that previous generation servers required. This makes for both cheaper and lower power servers. And who doesn't want to try and save money in the current climate?
Each chip has a large Level 3 cache a large area of shared super fast memory and most models have 8MB shared between the four cores.
What else is on offer?
There's QuickPath Technology for starters. This is the biggest difference over previous generation chips. Instead of the processor having to go out to an external front-side bus to talk to the memory, each processor now has an integrated memory controller. This makes for much faster communication between processor and memory, with up to 3.5x the memory bandwidth.
Each processor can access the access the memory of another if needs be. This is possible using QuickPath technology or QPI with 25.6GB/sec of bandwidth available.
Turbo Boost is also on the menu...
Sounds like something you'd find in a cool sports car. You've got me interested
While multi-core processors are very much the norm the software designed to really take advantage of it is lagging behind. Creating software that runs well across multiple cores is hard so Nehalem has a neat trick to boost single threaded applications.
Turbo Boost lets the application detect where there is a surge in demand and boost the clock frequency automatically for a short time, without any user intervention required. Even better for a single threaded application, one core can be boosted by up to an extra 400MHz. To compensate the other cores turn themselves off thus keeping the processor within its power envelope.
Get the ITPro. daily newsletter
Receive our latest news, industry updates, featured resources and more. Sign up today to receive our FREE report on AI cyber crime & security - newly updated for 2023.
Benny Har-Even is a twenty-year stalwart of technology journalism who is passionate about all areas of the industry, but telecoms and mobile and home entertainment are among his chief interests. He has written for many of the leading tech publications in the UK, such as PC Pro and Wired, and previously held the position of technology editor at ITPro before regularly contributing as a freelancer.
Known affectionately as a 'geek' to his friends, his passion has seen him land opportunities to speak about technology on BBC television broadcasts, as well as a number of speaking engagements at industry events.
Get the ITPro. daily newsletter
Receive our latest news, industry updates, featured resources and more. Sign up today to receive our FREE report on AI cyber crime & security - newly updated for 2023.
Thank you for signing up to ITPro.. You will receive a verification email shortly.
There was a problem. Please refresh the page and try again.