Apple's MacBook leads the way in market recovery
An analyst's report has said the notebook market is rebounding, lead by Apple's MacBook.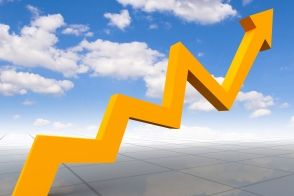 After an alarming nosedive, the commercial notebook market is beginning to recover with Apple's MacBook out in front.
According to a report by Morgan Stanley, after two disastrous quarters, it appears that the PC notebook market is beginning to recover, with Apple's MacBooks taking the lead.
February saw Apple taking the lion's share of the losses with sales of MacBooks dropping seven per cent.
In recent months, that has changed. Commercial Mac shipments began to outperform the broader commercial PC market in May - prior to the release of the new MacBook Pro.
During May, shipments of MacBooks increased 25 per cent month over month, despite an average market growth of one per cent.
Kathryn Huberty, the analyst behind the report, said: "Suppliers have recently noted Mac unit upside in the quarter."
While Apple is clearly leading the market, it hasn't been immune to the dwindling market conditions and has lowered the prices of its MacBooks twice this year, once in March and again in June.
Second quarter Mac sales ended at 2.5 million units, building significantly on its first quarter performance of 2.2 million units.
The report forecast 12 per cent quarter on quarter growth for Macbook sales, representing a two per cent decline when compared to its performance over the last three years.
Commenting on the recovery of the market, Huberty said: "Apple offers the most upside especially in light of healthy retail inventory levels and recent signs of improving commercial and retail Mac sales."
PC sales are beginning to recover with stores starting to order new inventory as demand begins to slowly rise again. However, normal sales are not expected to return to the PC market during the latter part of 2009.
"We don't expect the retail inventory restocking to continue into the second half of 2009 removing a key driver of shipment growth," said Huberty in the report.
She added: "PC demand is typically below normal seasonality in the quarter preceding an operating systems refresh as consumers/businesses defer purchases ahead of the launch."
A daily dose of IT news, reviews, features and insights, straight to your inbox!
A daily dose of IT news, reviews, features and insights, straight to your inbox!
Thank you for signing up to ITPro. You will receive a verification email shortly.
There was a problem. Please refresh the page and try again.