Nvidia Optimus switches it up for better graphics
Nvidia's new tech could offer the best of both worlds by automating the switch between an integrated chip and a discrete graphics card.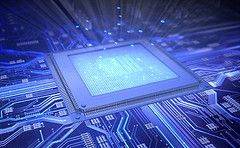 Nvidia has unveiled a new technology for laptops which will automatically switch from integrated to discrete graphics depending on the task.
While integrated graphics chips tend to be quite gentle on battery life, they don't have the muscle to tackle more intensive tasks such as gaming. In contrast, discrete graphics cards tend to offer more grunt at the cost of a higher power draw - putting a significant strain on battery life.
In an effort to offer customers the best of both worlds, laptop manufacturers have begun selling laptops offering both an integrated chip and a discrete graphics card. However, they've been required to manually switch between the two, and according to figures presented by Nvidia, less than one per cent of people with the feature take advantage of it.
In an effort to address this Nvidia's Optimus promises to automatically flip on the discrete graphics card when the user requires the extra power - running a game, for example. However, the moment they go back to writing an email, or browsing the web, Optimus will turn the card off and hand control back to the integrated chip.
One potential pitfall could be that Optimus depends on software profiles to tell it whether a task requires discrete graphics or the integrated chip. For applications that aren't recognised by Optimus, users will be able to activate the correct option with a simple right click, or by creating their own profile through the Nvidia Control Panel.
Nvidia is promising to constantly update the Optimus software with new profiles, meaning users shouldn't be tripped up too often.
The graphics card company said the technology will work with a range of Intel processors, including the Pine Trail platform, and will be integrated with its own GeForce 200M and 300M series, and next-generation Ion platform.
The first Optimus-enabled laptops will arrives courtesy of Asus at the end of February, with models from other manufacturers debuting in the next few months.
A daily dose of IT news, reviews, features and insights, straight to your inbox!
A daily dose of IT news, reviews, features and insights, straight to your inbox!
Thank you for signing up to ITPro. You will receive a verification email shortly.
There was a problem. Please refresh the page and try again.