Salesforce CEO gets chatty in London
Benioff talks up Chatter and promises UK data storage.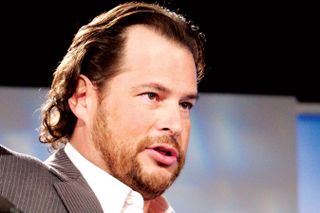 Marc Benioff, chairman and chief executive (CEO) of Salesforce.com, was keen to sing the praises of the company's latest service Chatter on stage at the Royal Festival Hall in London today.
The business social networking addition to the Force.com Software as a Service (SaaS) suite was launched in June and already has 20,000 customers on board, he announced.
"The reality is that social networking is transforming business software," he said. "Some software vendors have changed to accommodate this and for those that havent you only have to look at their [decreasing] marketing figures and the message becomes as clear as day."
The Chatter service brings a Facebook look to company interactions. Staff can connect with one another in much the same way as people establish friends on Facebook, but in a business context. Not only can they connect to colleagues, but they can also link to projects.
Benioff sees Chatter as a killer app in the Salesforce suite because it connects with the new generation of employees to whom digital communication is second nature. According to figures from market research firm Nielsen, 27 per cent of internet time is spent on social networking.
Salesforce is trying to claim the cloud as its own and Benioff said we have now reached the next phase or "Cloud 2." It relies on now-familiar and popular internet technologies such as Facebook, Google and YouTube to connect with staff and customers, and it believes business software should reflect this.
Benioff also announced "by 2012 Salesforce.com will have a data centre in London." The need to accept that company data is stored in a US-based data centre has long been a sticking point with some potential customers, both in the UK and Europe.
A daily dose of IT news, reviews, features and insights, straight to your inbox!
A daily dose of IT news, reviews, features and insights, straight to your inbox!
Thank you for signing up to ITPro. You will receive a verification email shortly.
There was a problem. Please refresh the page and try again.