Love of gadgets fueling rise in street crime
Met Police warns shiny gadgets attract criminals.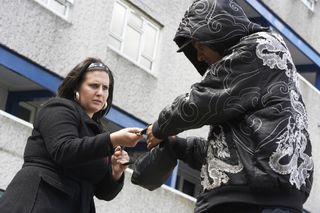 The Metropolitan Police Service has launched a campaign to make people more aware of just how attractive their new mobile phones and gadgets are to would-be criminals.
Launched this week, the anti-robbery awareness initiative aims to ensure Londoners take great care when out and about with high-value items such as
smartphones, MP3 players and jewellery.
"The MPS take street robbery very seriously - being robbed is a traumatic experience. However, the public can minimise the chance of it happening by taking some basic measures. When you are out, where possible try and keep any valuables hidden. Smart phones and media players are becoming must-have items for many people - that includes criminals too. They simply see these items as cash," said MPS Commander Simon Pountain.
"Many robberies happen when people check their phones just after leaving a transport hub, or when they are going about their business and may be distracted. Adults who have consumed alcohol and have less awareness of their surroundings are also more vulnerable. We're also aware that young people are targeted, usually by other young people."
Last year, more than 30,000 street robberies were recorded - an increase of 8.3 per cent on 2009's figures. The number of mobiles stolen has also shot up by 22 per cent.
Pountain added: "We are not asking the public not to use their phones or media players in public - we are just advising them to be vigilant about where and when they use them."
The Met's campaign will run until 13 February and feature radio, online and traditional advertising.
As part of the efforts, the Met has released CCTV footage of mobile phone theft in action.
It shows a mobile being taken from 20-year-old student Zarqa' on 11 October last year.
A 25-year-old man, Aaron Leon Conway, from Plumstead in London, was arrested and pleaded guilty to this and two other counts of robbery. Conway was sentenced to 18 weeks in prison.
The Met Police has stressed that the second man in the CCTV clip was not involved in the robbery.
A daily dose of IT news, reviews, features and insights, straight to your inbox!
Maggie has been a journalist since 1999. She started her career as an editorial assistant on then-weekly magazine Computing, before working her way up to senior reporter level. After several years on the magazine, she moved to 'the other side of the fence' to work as a copywriter for a marketing agency, writing case studies and working on ad and website copy for companies such as eBay, Dell, Microsoft and more. In 2006, just weeks before IT Pro was launched, Maggie joined Dennis Publishing as a reporter. Having worked her way up to editor of IT Pro, she was appointed group editor of Cloud Pro and IT Pro in April 2012. She became the editorial director and took responsibility for Channel Pro, in 2016. Her areas of particular interest, aside from cloud, include management and C-level issues, the business value of technology, green and environmental issues and careers to name but a few.
A daily dose of IT news, reviews, features and insights, straight to your inbox!
Thank you for signing up to ITPro. You will receive a verification email shortly.
There was a problem. Please refresh the page and try again.