iPad 2 coming 2 March?
It looks like we could see the next version of Apple's iPad within a week.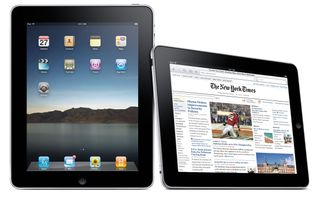 Despite rumours of delays, Apple will release the iPad 2 on 2 March.
So claims a report by Reuters, which - citing sources close to the matter - said Apple will hold an event on that date to show off the second iteration of the world's best-selling tablet, according to a source familiar with the matter.
The source rubbished suggestions the device release had been pushed back to June.
The news comes just days after a Taiwanese brokerage firm claimed the iPad 2 would be delayed due to manufacturing issues.
Subsequently, Apple shares fell by three per cent.
Tim Cook, chief operating office of Apple, will most likely take to the stage in Steve Jobs' absence to introduce the next iPad.
Jobs recently announced he would be taking medical leave, saying he hoped to be back as soon as possible.
This year will see a host of tablets hit the market, including Samsung's new Galaxy tab, which some analysts believe will offer genuine competition to the iPad.
"Taken as a whole, shipments of Samsung's Android tablets look set to give the iPad a strong run in terms of overall volumes over the course of 2011 and will help cement the Korean vendor's status as the second-ranked supplier of "lite OS" mobile internet devices moving forward unless another vendor proves itself capable of delivering similar devices to multiple segments," said Tony Cripps, principal analyst at Ovum.
"The Samsung Galaxy Tab 10.1's high specification and larger size should see it tapping into different market segments to both the original Galaxy Tab and Apple's iPad."
Read on for our look at what the iPad 2 could offer business users.
A daily dose of IT news, reviews, features and insights, straight to your inbox!
A daily dose of IT news, reviews, features and insights, straight to your inbox!
Thank you for signing up to ITPro. You will receive a verification email shortly.
There was a problem. Please refresh the page and try again.