Is RIM's BlackBerry PlayBook fit for business?
RIM's first tablet, the BlackBerry PlayBook, has arrived in the US and is destined for UK shores later this year. But in an increasingly iPad-dominated world, does it have what it takes to make a dent in Apple's sales? We investigate...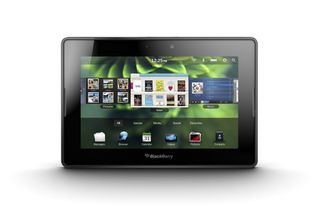 RIM first announced the impending birth of its tablet, the BlackBerry PlayBook, in September 2010. Since then, the market has developed a great deal. For one, Google has officially entered the game with its Android 3.0 operating system, which will feature on a multitude of tablets in 2011. Then we have Apple the company responsible for igniting the current tablet craze.
Apple's iPad 2 launched back in March this year. It generated record sales and huge demand the world over. Queues, mayhem and stock shortages inevitably followed, cementing Apple's iPad, perhaps unsurprisingly, as the dominant market leader.
Current Gartner predictions suggest Apple will dominate the market with a share of almost 68 per cent up until 2015.
But it's not just Apple and Google that RIM has to contend with. Practically every major manufacturer from HTC to ViewSonic is now officially in the tablet business. In short, the world of tablets is now every bit as competitive as the smartphone market. But does the PlayBook have what it takes to separate itself from the competition?
Look and feel
RIM's PlayBook features a 7in LCD display with 1024x600 pixels resolution. With vital statistics measuring 194x130x10mm, it's also a lot smaller than many of its competitors. Apple's iPad 2 and Samsung's Galaxy Tab 10.1 use a larger format, which some argue allows for a more netbook/laptop-like user experience when it comes to surfing the web and consuming media such as audio and video.
That said, having a smaller form factor means the BlackBerry PlayBook is also extremely svelte and lightweight. It's only just thicker than the iPad 2 but weighs a lot less - at 425g - which means it can easily be used in one hand and won't take up much room in your briefcase or bag.
As tablet size is still quite a hotly debated topic it remains to be seen whether this choice of portability over screen size will pay off for RIM in the long term.
The chassis has a soft-touch rubberised finish around the edges and back of the device and the 7in display is encased in a jet-black gunmetal frame. On the whole, the PlayBook does look quite angular, despite its rounded edges - especially when compared to the iPad 2.
There are several hardware controls - volume up/down, play/pause and power - that run across the top of the device. One issue we had with this set-up is that the power button sits completely flush to the device and is impossible to locate by touch alone.
The bottom of the PlayBook plays home to a micro-HDMI, micro-USB and a proprietary three-pronged charging connector. There's also a 3.5mm headphone slot on top of the device. In this respect, everything is as it should be although we would have liked some microSD support as well.
Hardware
RIM's PlayBook boasts a 1GHz TI OMAP dual core processor and 1GB of RAM. There's also 1080p video recording capabilities and dual cameras five megapixel on the back and a three megapixel front-facing camera for video calling.
The device ships in three storage flavours (16, 32 and 64GB) and users will pay $100 per storage jump in the US. Still, we can't help but think about just how good it would have been to have microSD on board as well. If this was the case, users would be treated to a whopping potential 96GB of storage.
RIM has opted for a PowerVR set-up and this, when coupled with the TI OMAP dual core processor, will allow you to decode and port 1080p content via the PlayBook's HDMI port to a compatible source, such as a projector system.
Thanks to BlackBerry's new QNX-based operating system, which introduces symmetric multi-processing (SMP) capability, users should also be to run multiple applications whilst porting 1080p video via the PlayBook's HDMI connector, without so much of a hint of lag. At least, it should in theory. We'll touch on this aspect in more detail in our full review of the PlayBook.
What's also quite worrying about the PlayBook is the current lack of 3G-support. At present, the PlayBook is Wi-Fi-only. So working remotely, at least for the initial batch of UK-bound PlayBook devices, will have to be done via tethering between the tablet and your BlackBerry smartphone. Granted, RIM has claimed that a 3G-version will ship later in the year but this still doesn't sit well with us. And most likley won't sit well with most business users either.
Operating system
RIM acquired QNX around this time last year. Previously, the Linux-based operating system was used in tanks, car stereos and nuclear reactors. Now it's the future of BlackBerry tablets and smartphones. In short, with QNX is RIM starting out all over again, leaving BlackBerry OS behind it, and moving to more unified and open future.
One of the major things RIM is keen to impress about the PlayBook is that it's the first ever enterprise-grade tablet. Put simply, RIM has designed the PlayBook for businesses it's going back to its roots on this one.
RIM claims that its new BlackBerry Tablet OS is compatible with almost every conceivable web standard and plug-in known to man. QNX has also been marketed by the company as quite an attractive proposition for developers too POSIX OS, SMP, Open GL, BlackBerry 6, WebKit, Adobe Flash, Java and Adobe Mobile AIR are all supported.
There'll be 3,000 PlayBook apps available at launch, according to RIM. This certainly sounds like a respectable number - it's significantly more than Android 3.0 for instance. Initial reviews of the PlayBook, however, have highlighted that the actual number - at present -is no way near 3,000. Although RIM promises this is all set to change in the coming months.
"For applications that require access to the native OS environment, developers can develop and port C/C++ applications and also take advantage of the QNX Momentics Tool Suite, which is based on the Eclipse standard," said Dan Dodge, co-founder and chief executive of QNX Software Systems, in a post on the BlackBerry Developer Blog.
"The BlackBerry Tablet OS provides built-in interfaces to integrate the rich graphical application environment with underlying native code."
RIM has also confirmed that the PlayBook will run Android and Java applications as well. This will be achieved by downloading an "optional app player" that is stored in a secure sandbox on the device itself. Once this app player is in place, users will be free to download and run Android and Java applications. This will likely massively increase the PlayBook's appeal for business users.
This will mean developers have to create ports of the application itself, but RIM seems confident that this won't be too much of an issue.
"Developers currently building for the BlackBerry or Android platforms will be able to quickly and easily port their apps to run on the BlackBerry Tablet OS thanks to a high degree of API compatibility," said Mike Lazaridis, RIM's president and co-chief executive at the time of the announcement.
A daily dose of IT news, reviews, features and insights, straight to your inbox!
A daily dose of IT news, reviews, features and insights, straight to your inbox!
Thank you for signing up to ITPro. You will receive a verification email shortly.
There was a problem. Please refresh the page and try again.