Government announces £50m graphene research hub
George Osborne says he wants the UK to be a leader in the development of silicon-replacement graphene.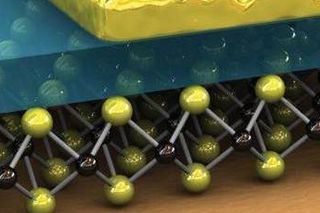 The Government has some big plans for computing and science, with solid commitments to both 'wonder material' graphene and supercomputing.
During its Conservative Party Conference, a 50 million Graphene Global Research and Technology Hub was announced to commercialise graphene the material expected to replace silicon in computer chips.
Graphene can be used in other areas as well, in particular for quicker touchscreens.
There are a range of graphene-related projects taking place across the world, including at the University of Manchester in work led by Nobel Prize winners Professor Andre Geim and Professor Kostya Novoselov. They discovered the material at the university in 2004.
"We will fund a national research programme that will take this Nobel prize winning discovery from the British laboratory to the British factory floor," said Chancellor of the Exchequer George Osborne.
"We're going to get Britain making things again."
A business case is currently being developed by the Engineering and Physical Sciences Research Council (EPSRC) and the Technology Strategy Board (TSB) to determine the best way to commercialise graphene.
"As the UK's leading centre for graphene research, we look forward to the creation of the Graphene Hub which will help to stimulate the economy, create jobs and new business opportunities," said Professor Dame Nancy Rothwell, president and vice-chancellor of the University of Manchester.
We're going to get Britain making things again.
"Graphene is one of the most important scientific advancements in recent times. We are proud of the world-class research carried out here and to have that recognised by the Government is a real vindication of the work we do."
The University of Manchester will be one possible location of the hub, but there will be an application process in the coming months. Universities and other institutions interested in graphene research will be able to bid for Government funding.
You can find out what graphene is and what it will mean in our Q&A here.
Another 145 million is to go on High Performance Computing (HPC), as the Government wants the UK to become a world leader in supercomputing.
A daily dose of IT news, reviews, features and insights, straight to your inbox!
A daily dose of IT news, reviews, features and insights, straight to your inbox!
Thank you for signing up to ITPro. You will receive a verification email shortly.
There was a problem. Please refresh the page and try again.