BT fibre rollout to finish a year early
The telecoms giant says two-thirds of the UK will have fibre by 2014, not 2015 as originally planned.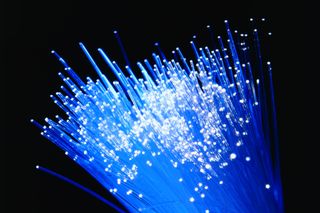 BT today announced its fibre rollout would be finished a year early, meaning two-thirds of the UK will be able to access superfast speeds by 2014.
The telecoms giant will recruit another 520 engineers, many of whom will be ex-army personnel, and invest an extra 300 million to finish the project a year in advance.
BT previously pledged to cover two-thirds of the UK with fibre capabilities by 2015 as the Government hopes to make the country the best-connected nation in Europe by that year.
We're announcing this now because we are in a position to do so having made very good progress to date.
In May, the provider announced plans to bring in 200 ex-army staff for its fibre project. The 520 additional engineers announced today will be permanent, BT confirmed.
"We're really pleased to be recruiting so many ex-armed services personnel," a BT spokesperson said. "They've served their country well and deserve the chance of full-time employment with a generous reward package. They're also highly skilled, motivated and disciplined and they have experience of complex engineering tasks in challenging environments. Given that experience, we'll be able to train them up quickly and get them straight out where we need them."
The telecoms giant told IT Pro it was still going to deliver the rollout within its capex guidance of 2.6 billion spending per year.
It also denied the UK was lagging behind other nations such as South Korea and Sweden, which have strong fibre deployments. BT believes the rollout is one of the fastest in the world.
"We're announcing this now because we are in a position to do so having made very good progress to date," the spokesperson added.
"We're learning all the time and many small innovations (micro-trenching, power supply solutions, etc.) have made a difference in enabling us to go faster than other countries. The recruitment of more engineers will help."
Last week, the UK was placed 25th in the global broadband speed rankings from Akamai. Only 30 per cent of UK broadband connections are above 5Mbps, according to the report. In The Netherlands, 68 per cent of the country receive equivalent speeds or faster.
BT is hoping to work with the public sector to take fibre to the final third of the UK and will be bidding for a slice of the Government's 530 million Broadband Delivery UK (BDUK) fund alongside other ISPs.
In a bid to boost speeds across the UK, BT recently announced its Fibre to the Premises (FTTP) product, pledging it will offer downstream speeds of 300Mbps by spring next year.
A daily dose of IT news, reviews, features and insights, straight to your inbox!
Tom Brewster is currently an associate editor at Forbes and an award-winning journalist who covers cyber security, surveillance, and privacy. Starting his career at ITPro as a staff writer and working up to a senior staff writer role, Tom has been covering the tech industry for more than ten years and is considered one of the leading journalists in his specialism. Between his roles at ITPro and Forbes, Tom has also assumed the position of deputy editor at TechWeekEurope and worked as a freelance journalist for nine years, securing bylines in other leading technology publications.
He is a proud alum of the University of Sheffield where he secured an undergraduate degree in English Literature before undertaking a certification from General Assembly in web development. You can read his work here at ITPro, over at Forbes, and sign up for his newsletter, The Wiretap, to learn about how surveillance is used in the real world, as well as containing all the security and privacy news worth knowing.
A daily dose of IT news, reviews, features and insights, straight to your inbox!
Thank you for signing up to ITPro. You will receive a verification email shortly.
There was a problem. Please refresh the page and try again.