Chromebooks: What's gone wrong?
With all Google's weight behind them, and companies keen to use the cloud, Chromebooks should be selling better than they are, argues Mike Jennings.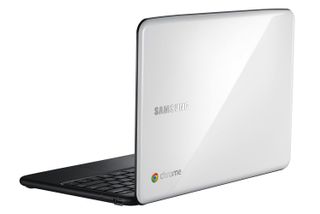 Google is not short of money, success or users, but the firm is less used to failure. And that must make its boardroom an unpleasant place to be when Sergey Brin and Eric Schmidt address the firm's continuing Chromebook project.
These diminutive laptops were meant to be Google's first big venture in PC hardware: sturdy, portable machines that combined fine ergonomics with an always-on, cloud-based OS. It was a system that should have exploited the firm's strengths, from its search technology and Chrome web browser to its Docs office suite and its mobile experience with Android.
But it is almost a year since the Chromebooks arrived, and the devices have so far -- not met expectations. Headlines dub them "the flop of 2011" and others claim that "sales [are] even lower than thought". These are laptops that retailer Dixons predicted would account for 10 per cent of its computer sales after a year on the market, but the latest numbers suggest that only 5,000 of these devices have been sold by Acer, and even fewer by Samsung. What went wrong?
Fundamental problems
The Chromebook is fundamentally a risk for businesses and, in many cases, its design is a double-edged sword. Instead of using Windows or another conventional operating system, these laptops use Google's cloud-based Chromium OS, with basic browsing and productivity apps included, but traditional software left out in the cold.
the platform's limited use, while disconnected, overrides everything positive about it
That makes Chromebooks fast, easy to use and easy to take out into the field, but the lack of Windows or other traditional productivity software has many drawbacks. Analyst Rob Enderle says the "very limited applications" make them "worse than netbooks" in terms of functionality.
And Patrick Moorhead, president of Moor Insights and Strategy, agrees: "the platform's limited use, while disconnected, overrides everything positive about it". Indeed, sister title PC Pro said the Chromebook's "reliance on online applications" put paid to the Samsung Series 5's prospects, with an infrastructure that was "currently too limiting" when compared to equivalent Windows machines.
Analysts and experts agree that the Chromium OS just can't cope with the range of uses demanded of a modern laptop. Reviews cited several specific aspects of Chromium as major problems, with the lack of a file system and a need for an always-on internet connection proving to be especially restrictive.
A question of business
Google pitched these "dumb terminal"-style machines at businesses, hoping their basic, always-on nature would appeal, and business software vendors -- including Ericom with AccessNow and Citrix with Receiver - signed up- - but more fundamental issues mean uptake has been slow.
DigiTimes has written that "Google Docs cannot meet the needs of enterprise users", and IDC analyst Al Hilwa has said that the total reliance on cloud-based applications is a big problem: "I expect cloud and offline services to be the prevailing norm for a long time to come". It is a view that confirms that machines not offering both of these types of functionality are, for now, doomed to suffer.
IT managers were not keen, either, at the prospect of having updates pushed out on a whim by Google, rather than managed in-house. In a time of recession, that is a disruptive and expensive change that many firms just will not want to make. And there is the fact that it is Google: Moorhead says that "enterprises don't trust Google with reliable, scheduled updates; they only need to look at Android, which is currently a mess".
A crowded market
Then, crucially, there is the competition. The trickle of Chromebooks appearing in the market has overlapped with a veritable torrent of Ultrabooks, and while these machines are more expensive, they are fully-featured laptops that offer MacBook Air-style luxury and Windows functionality, usually for sub-Apple prices.
It is easy to see why Ultrabooks have already gained so much traction. They are much quicker, for starters, with top-end models including Intel Core i7 mobile processors, and they are able to run traditional applications and access cloud services. Such a familiar operating system is also much easier to service and support: a prime consideration for IT departments and managers.
Then at the bottom end, there is the device that Google's Chromebook most closely resembles: the netbook. Both run on similarly low-powered hardware but, while Samsung and Acer's Chromebooks cost around 300, netbooks are cheaper still and generally include Windows.
And the market for these type of devices is shrinking anyway: Jefferies & Co analyst Peter Misek said last year that "we view [netbooks] as a dying product category", with Taiwanese analysts estimating the netbook market will shrink by 40 million units in 2012. Samsung, once a major player in this market, has already halted production. It is a sign that low-cost laptops are not the safe bet they once were, with their market swiftly being eroded by the emergence of tablets and smartphones as productivity devices.
Retailers respond
Despite this, Google has remained bullish throughout the Chromebook's short life. Immediately after launch a Google statement said the company was "very pleased with the response to Chromebooks", and it certainly will not be axing its faltering laptops any time soon although its firm "no comment" in response to this feature could be interpreted in a variety of ways.
Google opened an Apple-style Chromebook store in PC World's flagship Tottenham Court Road branch, and Google representative Laura Thompson said "many things in life are best experienced in person; Chromebooks are no exception". DSGi, which owns PC World, believes Google might yet push Chromebooks harder ahead of the launch of Windows 8.
John Lewis also sells Chromebooks through its website, and the firm remains firmly on-side: a spokesperson told us that "John Lewis is committed to the very latest technology" and that, while Chromebooks remain "a new, niche product" the firm intends to keep offering them as part of its "comprehensive IT offering".
A future for Chromebooks?
So, is there still hope for the Chromebook? Google reckons so. And there are whispers, too, that Google will be dramatically improving the hardware inside its devices. Recent changes to the open source boot environment that allows Chromebooks to boot into Chromium OS allow for support of Intel's older Sandy Bridge and new Ivy Bridge processors, and bug reports have been spotted from developers using unannounced laptops using ARM-based processors.
With tablets, smartphones and Ultrabooks gaining ground and only so much space for IT in the average business, though, it seems that there might not be much time left for the Chromebook to make a significant impact.
Google might have placed plenty of stock in the Chromebook, but analyst Enderle reckons the platform is "unlikely to ever be successful". That may be a pessimistic view, but we are sure of one thing: Google might be the world's biggest internet company, but it's a long way behind when it comes to building hardware businesses will actually want to buy.
Get the ITPro. daily newsletter
Receive our latest news, industry updates, featured resources and more. Sign up today to receive our FREE report on AI cyber crime & security - newly updated for 2023.
Mike Jennings has worked as a technology journalist for more than a decade and has been fascinated by computers since childhood, when he spent far too long building terrible websites. He loves desktop PCs, components, laptops and anything to do with the latest hardware.
Mike worked as a staff writer at PC Pro magazine in London for seven years, and during that time wrote for a variety of other tech titles, including Custom PC, Micro Mart and Computer Shopper. Since 2013, he's been a freelance tech writer, and writes regularly for titles like Wired, TechRadar, Stuff, TechSpot, IT Pro, TrustedReviews and TechAdvisor. He still loves tech and covers everything from the latest business hardware and software to high-end gaming gear, and you'll find him on plenty of sites writing reviews, features and guides on a vast range of topics.
You can email Mike at mike@mike-jennings.net, or find him on Twitter at @mikejjennings
Get the ITPro. daily newsletter
Receive our latest news, industry updates, featured resources and more. Sign up today to receive our FREE report on AI cyber crime & security - newly updated for 2023.
Thank you for signing up to ITPro.. You will receive a verification email shortly.
There was a problem. Please refresh the page and try again.